This September saw a real international contingent of delegates making their way to Manchester for ELRIG's 2014 Drug Discovery meeting. With over 1,200 people registered for the event there was a great bustling atmosphere as delegates and presenters interacted on the exhibition floor, during the talks and around the impressive poster section. Industry giants, start-ups, academics and students alike came to see what's happening right now in the world of drug discovery.
3D culture takes centre stage
The conference was geared up for an excellent range of topics, with tracks covering phenotypic discovery, 3D imaging, oncology and automation amongst others. A stand out talk for me came from perhaps an unlikely source: an undergraduate presenting data on 2D vs 3D cell culture in high throughput screening. Sophie Quick, a student from the University of York, articulately discussed the research behind her poster, carried out during her time at AstraZeneca. There has been no shortage of research lately discussing the benefits of 2D vs 3D culture screening and how 3D is more representative of an in vivo state. Sophie's talk very clearly highlighted one clear cut advantage during a screen for compounds with specific activity, performed in 2D vs 3D: of around 7,000 compounds screened, approximately 80 were hits and subset of these hits were only found in the 3D culture screen, and would have been missed had the researchers only used 2D culture. Muddying the story somewhat, another subset of hits was only detected using 2D cell culture.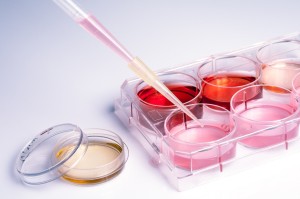 What does this tell us? Well, while 3D cell culture often provides data thought to be more physiologically relevant, it is still important to consider the value of a multi-pronged screening approach – combining the data from 2D and 3D cell culture screens is likely to provide more hits than either used in isolation. The quality of the hits provided by the two techniques is still the subject of much debate (and research).
Overcoming cancer resistance
We were treated to an excellent and very detailed plenary talk from Dr Susan Galbraith on the genetic drivers of cancer growth and resistance mechanisms. The focus was on lung cancer, which has around 1.6 million cases around the world per year, a figure which is expected to increase. A number of research projects have now identified specific mutations that drive the development of cancerous of growth, and these are now becoming the target of new therapies as an alternative to chemotherapy.
So far, these molecular-targeted therapies have produced higher response rates in cancer patients, and with a better tolerability. While therapy resistance does eventually become a problem in patients, the research of Dr Galbraith and others is using this knowledge of molecular drivers to help understand, monitor and anticipate resistance in order to better overcome it. Hopefully, this ground-breaking work will lead to innovative designs in therapeutics, ultimately redefining the cancer treatment paradigm.
The power of active discussion
Some people chose to break away from the classic lecture-style talk an instead opted for an open floor discussion. Malcom Crook of PAA-automation led one such discussion along the path of 'what can we automate next?' From small scale lab kit and user interface (UI) development, to industrial grade high-throughput systems, there was a great level of banter around the key considerations involved in running an automated service, especially when designing custom solutions for clients. Like anything, designing automated systems is about having clearly defined goals, the correct level of expertise and a clear strategy for running what are frequently astonishingly complex systems.
As Dr Galbraith pointed out at the end of her plenary talk, drug development (and science in general) is a team sport. This was a key theme running through the talks at ELRIG Drug Discovery this year, highlighting the high degree of collaboration that's currently taking place between individuals and groups. Technology and multi-disciplinary studies are now wholly integrated into research and this inevitably leads to new and interesting perspectives. There's no such thing as a solo researcher anymore, and I think that's a great thing: inter-disciplinary interaction has led to some truly amazing discoveries and judging by the breadth of work presented at this conference, this new era of team work looks set to continue.
Join the conversation
Were you at ELRIG Drug Discovery 2014? What do you think are the most important trends in drug discovery at the moment? How can automation and robotics continue to improve efficiency, accuracy and throughput? We'd love to hear your thoughts, so please feel free to leave them in the comments section below.