Stage 1.
Gathering customer insight and developing your proposition
People don't just have relationships with individual products; they are usually loyal to brands. Without investing time in developing, refining and implementing your brand proposition, you will have no differentiation in the marketplace. Without differentiation, there is limited opportunity for your products to gain long-term profitability.
Building a unique position in the life science market
So how do you go about crafting a unique positioning to stand out from the crowd? A good start is a brand audit: a detailed analysis of your brand and its current state.
An audit will help to determine which of your brand qualities are currently effective and which are not. You can use this to help restructure your identity and messaging in order to produce better results.
The purpose of an audit is to establish several key brand attributes:
How it's perceived by important stakeholders, e.g. employees, customers, suppliers, partners, distributors, prospects, etc.
What its strengths and weaknesses are
How well known and regarded it is
How it sits against its competitors within the marketplace
What its core values are
How well these values are mapped to the goals, needs and challenges of its various audiences
How best to define your brand's positioning so that it resonates with your targets.
Reviewing existing market research
There is a raft of market research available both free of charge and for a fee on the internet. These are extremely useful in providing background information and context to the landscape within which you are operating. For example, you might use such data to estimate the size (and opportunity) of a given market vertical, or use it to fine-tune your message to appeal to the most lucrative market segment.
There are several great sources for market research in the life science and healthcare sectors:
Frost & Sullivan
This group has developed a team of consultants and research analysts who are global experts on the life science market. This team not only provides global coverage of the marketplace, but also – and more importantly – gives you a global perspective of the market.
SlideShare
Free of charge market research presentations from a variety of sources are hosted on SlideShare. For example, Allied Research, shared this report on the 'Global In Vitro Diagnostic Market', while Visiongain shared a free executive summary report on the 'Point of Care Diagnostic Market Forecast 2014–2024'. Other summaries include this report on the '2016 Global Life Science Funding & Lab Budget Outlook'. Just be aware that most of these SlideShare presentations are tasters designed to encourage you to buy the full report.
MarketResearch.com
The database at MarketResearch.com is a comprehensive collection of market intelligence products and services. It offers reports from over 720 top publishers and offers instant access to a wealth of expert insights on global industries, companies, products, and trends.
Bioinformatics, LLC
This group provides market intelligence to major suppliers serving the life science, medical device and pharmaceutical industries.
Membership organisations
Organisations that you and your company belong to are likely to be able to give you access to industry reports. For example, each year the American Association of Clinical Chemistry (AACC) presents a global market report on the in vitro diagnostic (IVD) market at its annual meeting.
Global management consultancy firms
Companies such as EY publish regular reports on the healthcare and life science market on their websites, which are available to download and digest. For example, EY's Megatrends Report provides detailed information on the global forces that will have a far-reaching impact on business, economies, industries, societies and individuals. This includes a section on the global trends affecting the healthcare market.
Life science analysts and publishers
A number of publishers offer access to life science intelligence services, including the likes of Scrip Intelligence, BioCentury, Informa and Evaluate.
As you can see, some thorough digging around on the internet can provide a cost-effective way of gaining valuable insight into your market.
Internal audit
Market research data can provide some useful big picture insights, but what about your prospects and customers specifically? Well, before reaching out to them, it's critical to first look at the brand from the inside out.
It's likely that there's a great deal of insight already lurking right under your nose: your sales, after-sales and technical teams probably already know a substantial amount about your customers. Scientific products are invariably associated with a large amount of technical details. But this is detail that these internal teams deal with on a daily basis – that's what makes them first line experts! Your first port of call in gathering insight should therefore be with the very people that are already working very closely with your intended customers.
An internal audit typically includes a combination of quantitative and qualitative research. This involves polling key internal team members, from executives and managers to customer service and sales personnel, to reveal their ideas, insights and feelings about your brand. It is vital to take a snap shot of people across the organisation as the thoughts and opinions of the senior management could be far removed from others within the company. The aim is to get a rounded picture of how your team views the company, including its strengths, weaknesses, positioning against competitors and unique proposition in the marketplace.
The research activity would usually combine:
Quantitative research: online survey (only really useful if the company has a large number of employees to interview, i.e. over 50)
Qualitative research: focus groups, in-person interviews, interviews via email, etc.
Its purpose is to gather intel on the management team's and employees' perceptions of:
The company: it's mission, differentiators, strengths and weaknesses
Products/services: understanding of the product/service offering, their benefits, how they compare to the competitions
Competitors: who the key competitors are, what makes them better/worse, what differentiates the brand from its competitors
The brand: what the brand's personality and core values are.
External audit
Another great tactic to accumulate useful insight is to go straight to the source. The person most informed about the customer's needs and concerns is the customer. You can start by reaching out to existing customers and set up a brief interview call. If a customer is happy with their product, it's unlikely they'll mind a quick five-to-ten-minute chat about their impressions. Similarly, if they're unhappy they're probably going to want to explain why! All feedback is good feedback and so you should take every opportunity to get it straight from the horse's mouth.
It's important to remember that those customers in charge of the buying decision may not necessarily be the end-users. Lab managers for example may go to great lengths to source the right equipment, but may never actually use it themselves. This means that while the buyers may be well informed about what they need, they may be less knowledgeable about day-to-day uses or even problems.
To overcome this you could organise a visit to the customer's workplace, allowing you to see the product in action. This also gives you the fantastic opportunity to speak directly to those making use of your product. Users will be likely to speak openly and honestly when in their place of work.
Customers are not the only external stakeholder to consider when carrying out your research. Within the life science arena, there is a vast range of audiences that often need to be taken into account (see table).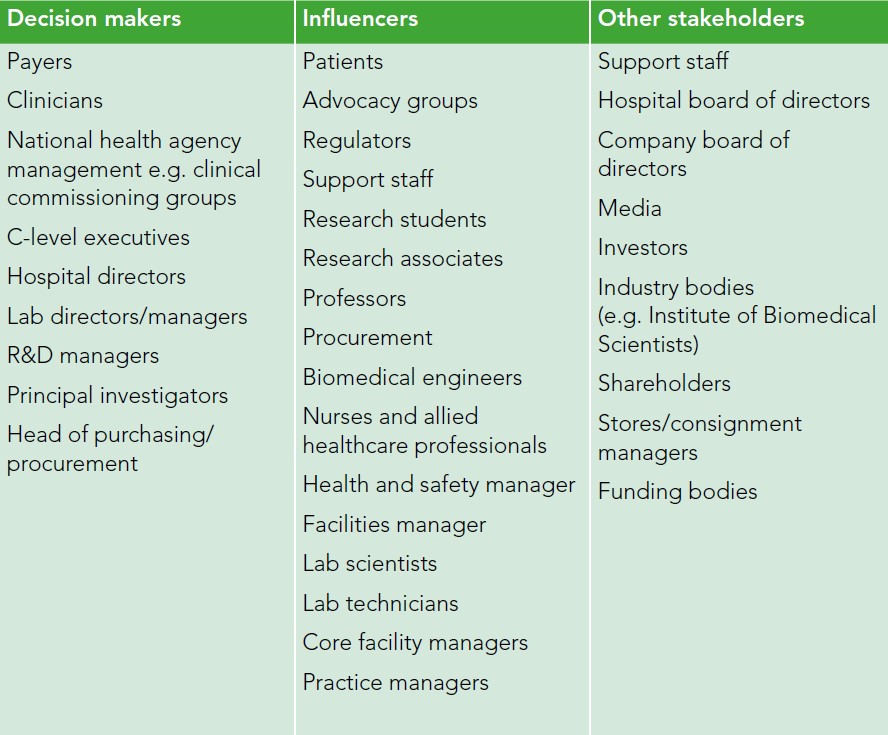 To help create a compelling proposition for your brand, you need to be clear about whom you are targeting, the constraints they are working within and how you can encourage them to take action. The outcome of the external audit will enable you to adjust the impetus and depth of your messaging to suit each target audience, so your communications efforts will always resonate.
Once again, the best approach to adopt is a combination of quantitative and qualitative research for current customers, prospective customers, past customers and suppliers.
Competitor analysis
A competitor analysis will help to build a wider picture of the marketplace and help to establish where you fit within your competitive set. This can be done through online research, mystery shopping (via the phone and at trade shows), requesting sales materials and even speaking to your customers and prospects for their opinions on your competitors.
SWOT (Strengths, Weaknesses, Opportunities and Threats) or Gap analyses can be used to establish your existing and desired position against your competitors. A SWOT analysis is a traditional marketing technique that can help you to identify the biggest opportunities within your market and align them against your company's strengths. This helps you to focus on those areas where you are most likely to win.
A Gap analysis is often more organic and flexible than a SWOT analysis. It compares the gap between your actual performance against your potential performance.
Typically you would detail your current state and your desired state, before developing a comprehensive plan to fill out the gap between the two. As an example, this type of analysis might demonstrate that your product is head and shoulders above any other product in the market, but no one has ever heard of it and therefore hasn't even considered buying it! In this case, the analysis would help you to define your positioning and apply tactics to build the profile and awareness of the product, overcoming the 'awareness gap'.
Once you have gained a clear picture on the scope of products and/or services offered by your key competitors, you can perform an in-depth analysis of how they position themselves in the market via their communications and sales collateral. All of this will help to outline where there may be a gap in the market and how you can define a unique position for your brand, products and services.



Communications audit
More often than not, businesses will unintentionally have a relatively disparate appearance and voice running throughout their different marketing communication channels – particularly if there isn't a strict corporate approval process to which everyone adheres. The end result being that potential buyers are unclear on exactly what makes you different, what value you offer or why they should buy into you (and from you).
As part of a brand audit, it is useful to take a cross section of communication materials and run a communications audit looking at the usage of fonts, imagery, colours, messaging and tone of voice. This would include analysing various materials: brochures and flyers, your website, annual reports, infographics, podcasts, internal communications, press releases, exhibition stands, training materials, application notes, white papers, case studies and webinars. The purpose of this is to understand where to make improvements in the clarity of the brand's positioning.
The criteria we tend to review in a communications audit includes:


Messaging
Tone of voice
Fonts
Colours
Imagery
General
"To help create a compelling proposition for your brand, you need to be clear about whom you are targeting, the constraints they are working within and how you can encourage them to take action."