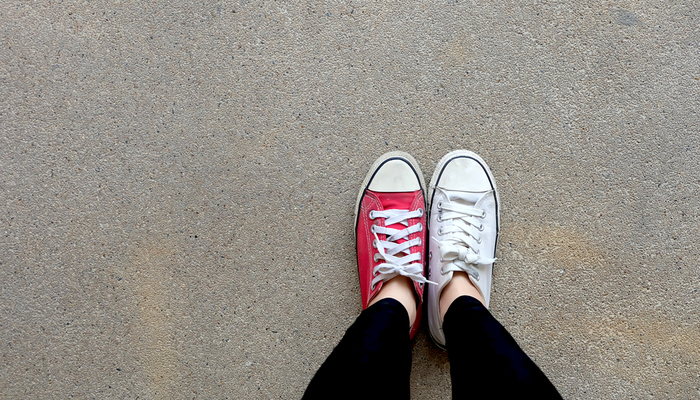 If you work in marketing internally for a specific company, you'll probably be aware that the world of agency is very different. But how do you find out what that world's like, and whether it would suit you? I hope I can help you answer these questions, since I've experienced both environments. I started my career by working client-side (as an 'internal marketer'), then a year ago I took my first agency job as an Account Director.
In hindsight, the move was a very positive decision for me, but at the time it felt like a leap of faith. If I'd known a bit more about the nature of the role, I'd have been more confident taking the plunge. So, to help those in a similar situation, here are five things about working in agency that I wish I'd known a year ago.
If you're interested in finding out more about our open roles, take a look at our current opportunities.
1. Every day is different
To be perfectly honest, I did have some misgivings that agency work could get 'samey'. From my previous experience of managing agency relationships, I knew that many companies concentrate on individual areas such as pay per click advertising (PPC), design or brand strategy. While this deep focus on one specialism could suit many people, it wouldn't be right for me—I've always loved to manage a variety of marketing activities and employ lots of different techniques.
Fortunately for me, I needn't have worried about finding a varied job. I discovered an agency that specialises in an industry rather than a particular skill set, meaning that I could still have the generalist role I was looking for. In fact, my work these days is even more diverse than in my client-side jobs, because I use a wide range of tactics for many different-sized companies with distinct challenges and varying levels of internal marketing resource.
To give you a flavour of my day-to-day work, today I led a buyer persona session with a client, where we defined the main characteristics and needs of the key audience segments they're targeting. Then I reviewed a blog and some social media posts, and later I'll be calling another client to map out a plan for designing and writing their new website. And that's just today—recently I travelled to a drug discovery conference to deliver a workshop on content marketing, and shortly afterwards went further afield to visit a client in Sweden to plan out an integrated Inbound and PR content marketing plan for 2020.
It may sound hectic, but this life suits me down to the ground. Variety is the spice of life, as they say, and I've always loved to get a lot of different things done in one day. If you feel the same, perhaps agency work could be right for you too.
2. You get to live on the cutting edge of marketing
Another thing I value about agency work is that I can always keep up to date with technologies and tactics. Since we have to stay abreast of the latest trends to provide the most value for our clients, a big part of my job is keeping my finger on the pulse and looking out for new possibilities. For example, I am always keeping my eye on the latest in marketing automation technology capabilities and social media platforms, and the specific value they have for B2B marketing to get better business results. As a bit of a marketing nerd, I always love to learn about fresh ideas, so having to keep up with these trends really appeals to me.
What's more, once I find out about something new, there's always the opportunity to pass on this knowledge. For instance, I'll quite often write blogs about the latest developments or give tips and tricks in workshops at conferences. I particularly enjoy this work as it makes me feel part of the wider marketing community, and I've always liked to share my learnings with other people.
One subject I've had to learn a huge amount about recently is account based marketing (ABM)—this is an incredibly hot topic in marketing right now and many of our clients are recognising its value. To meet their needs, I've had to quickly become familiar with lots of different ABM techniques and work out when it's appropriate to use them. It's been a steep learning curve, but I've gained a lot from it, and I'm now happy delivering workshops to clients on how to get started with this strategy and apply it to specific situations, as well as actually implementing ABM programmes for clients and helping them get results through these means.
3. You know that what you're doing will get results
As well as learning about current best practices, I get to see that these tactics actually make a difference. Since BioStrata collaborates with many clients in a defined sector, we collect a lot of information to reveal how particular techniques perform with this audience. By continually examining the results of our marketing efforts, we can iterate and optimise our strategies accordingly. This data-driven approach means we always know we're delivering value, which makes the work feel so much more worthwhile.
In my previous internal roles, I'd still monitor the results I produced, but it just wasn't possible to get the same amount of data or to test so many different combinations of tactics. As such, it was more difficult to build up the certainty that I was working most effectively.
With the more evidence-based understanding of best practice I've developed over the last year, I feel better equipped to make strategic decisions. So, if a client says they've got budget to spend on PPC, but based on my understanding of their objectives and situation I can assess that PPC isn't the best way to achieve their specific goals, I can push back and suggest an alternative approach that's more likely to get the results they're looking for. This is extremely important to me, as I've never liked just doing marketing for marketing's sake. What's more, this proactivity supports strong long-term relationships with clients, which is another great facet of agency work.
4. Building strong relationships with clients is incredibly rewarding
When I moved into agency, I knew I'd be collaborating closely with clients, but I'll admit I didn't appreciate how rewarding these relationships could be. There's something really intense about working together through busy periods with tight deadlines, when you're all doing your best across your different teams to meet shared goals. It's incredibly hard work and can get manic at times, and you find yourself taking on the client's frustrations and challenges and making them your own. But when you've got through a big project together, it's very satisfying to celebrate your successes with each other.
5. You get to learn loads from an amazing team
I've talked about working as an extension of the client's marketing team, but let's not go forgetting our team within the agency! I'm lucky enough that my colleagues are an amazing group of people who are all committed to working hard—'getting stuff done' is one of our core company values. While I've worked in similar positive, 'get stuck in' cultures in my previous client-side roles, I find that agency work brings me something extra. The difference here is that there's an incredible breadth of expertise across the team, which means that I learn a huge amount from my colleagues about marketing, as well as science and technology, when we're working hard together to push a project through.
If I need to ask a technical question about Google AdWords, for example, I can consult someone else in the team who'll be happy to help me out. Or if I want to learn about the scientific basis of a project, I can turn to one of my many colleagues who are PhD scientists by background. Similarly, people will ask me about areas where I have more expertise, like putting together value propositions and creating campaign plans for going to market with a new product. This collaborative environment means that it's very easy to learn and keep on learning—which is something I really enjoy.
So, would a career in agency suit you?
Hopefully this blog will have given you a taste of what agency work can be like. Of course, my experiences won't apply to all agencies—there are lots of different companies out there and they vary widely. I've chosen to work in a specialist life science agency that employs a wide range of marketing tactics, since the variety and intensity of this exciting work suits me. If you're the kind of person who gets bored with a standard 9–5 routine, and who loves to continually learn and be challenged, it might just suit you too.
To find out more about our open roles and how to apply, visit our careers page.