Last week I attended the Business of Software (BOS) conference in Cambridge (June 25 and 26), run by the BLN. The format had previously been run in the USA and this was the first European BOS. A gathering of the great and the good from software businesses and beyond, the aim of the conference is for software business leaders to share ideas and tips – what has worked and, just as importantly, what has not.
The main learning outcome I really took away was the same for any business: no matter how amazing your idea or new product is, you need to have all the business functions up and running and aligned to make it a success – and you can't do it all alone, you need a good team around you to make it really happen.
Bilingual in the languages of software and business
Following on from this, one key point from the conference was that people who have only worked in technical functions and are now starting a business may not understand many of the other business functions required to bring their product to market (What do they do? Why do I need them?). This can hamper them when trying to employ and deploy other vital business functions such as sales and marketing.
Motivation and psychology
Some of the highlight talks for me were those around psychology. From Kathy Sierra's talk 'Motivation Matters' on the sometimes confusing area of how to motivate and reward customers, staff and even horses, through to Natalie Nahai's fascinating 'Secret psychology behind online persuasion' and Sarah Hatton's customer service tips, I felt I learned a huge amount. I loved the idea of Alex Osterwalder's 'no blah blah blah' in business – I will be using the red card he provided (as below)!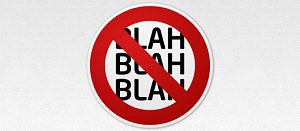 Some of the shorter 'lightning' talks were equally enlightening, with David Peto's analogy of linking business with acting; Adam Bird embracing his inner rubbish; a rapid fire guide to user experience (UX) from Marine Barbaroux; learning without teachers from Evgeny Shadchnev; and last but not least, Carol Atack speaking on her exciting work against poverty with Actionaid. Many of these talks exist in one guise or another on the BLN website here.
BOS top twelve tips
There were so many good talks that it's been hard to boil it down, but I've gone with a nice round dozen top takeaways from BOS:
You don't just need focus in your business, you need alignment throughout (internal communications matter in any size of business)
First ask, 'what does success look like?' Then decide on the metrics you need to move the needle
Don't hire a sales person until you know your value proposition (sales people are not miraculous rainmakers)
Strategy should be a day job, as integral to a business as operations
Rational choice is not enough to get someone to buy – customers need an emotional connection
Persuasion vs manipulation – the difference is your intent
You can't change a person more than a few percent, so recruit the right ones
Make the user awesome, not the product
People need to be in the flow zone when using your products – reduce the need for willpower and cognitive leaks
Build it in, don't bolt it on
Customer service – be a real human and treat your customers like real humans (because they are!)
All the business world's a stage
Finally it's hard to sum up the buzz that was BOS. There were inspiring speakers and stimulating people to mingle with, while all the 'additional external peripherals' really delivered extra interest – what's not to like about a retro computer gaming zone, spaghetti & marshmallow towers, fabulous food from Robinson College, and Pimms & croquet in the manicured gardens? Hopefully see you all next year!
What was your favourite part of BOS? Let us know in the comments below.