Recently, a large travel company launched an advertising campaign that allowed online music-streamers to listen and contribute to custom holiday playlists to compliment various holiday situations and emotions from 'packing suitcases' to 'sad to be going home'. After all, a memorable song can swiftly transport you back to your favourite holiday moment and have you sipping swanky drinks in the sunshine in no time. No doubt, we all have a song that brings back those fond memories of a particular event, or a track that we play to get us through the day. Music is indeed very much a part of daily life for most people, whether at work or away on holiday.
Turn up the volume on your marketing strategy with targeted playlists for scientists
So why are we writing about this here on a life science marketing blog? Well, this recent travel playlist concept really got us thinking. Most of us here have worked in life sciences and know full-well what goes on beneath the seemingly serious surface of a lab. Whether you're a bioinformatician with reams of code to generate, or a wet lab scientist with cells to feed and proteins to extract, there's no reason why 'poolside' playlists can't be exchanged for 'waterbath incubation' ones! We all need a little R&B in our R&D, or perhaps you're more partial to a statistics staccato or electronica electrophoresis. Whatever your acoustic preferences, we think it would be great if science companies offered researchers the opportunity to contribute to an online lab playlist, especially if it's free! Not only could this be a unique and interactive means of engaging with your audience but, who knows, it could help inspire the innovative thinkers of tomorrow by getting them through all aspects of lab life, from failed PCRs to publication triumphs. There's even the potential to generate an algorithm to help identify the perfect soundtrack to daily lab life.
Everyone from travel agents to coffee houses are switched on to the fact that today, more of us are plugged in, whether it be listening to podcasts or marching along very much to the beat of our own drum. Perhaps this is something that other industries, including the sciences, needs to tune in to in order to reach out to our target audiences. Lab playlists could include: 'stubborn statistics' – some soothing classics to get you through late night number crunching; 'wash, rinse, repeat' – upbeat tunes to help you power through those replicate experiments; 'cursed contamination' – covering rock's finest anger-management ballads; or 'peer-reviewed and published' – feel good punch the air songs (we're thinking Rocky theme tune).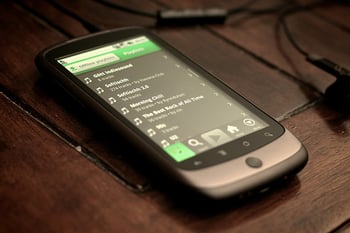 Image: Flickr/Johan Larsson/Spotify/CC BY 2.0
There're plenty more playlists just waiting for enthusiastic DJs in white lab coats to spin the decks with centrifugal force to enhance the acoustic surroundings of the scientific community. If you have any suggestions for songs or playlists let us know in the comments below!
To get started - we thought we'd get a little science-related 'lab hits' playlist of our own on the go. Happy listening!
Songs with science titles
Did you enjoy this post? Sign up to our newsletter and we'll send you more great content straight to your inbox.