It's often said that a company's website is its 24/7 shop window to the world. Indeed, it's the first port of call for many customers seeking out new products, innovative solutions to their problems or the latest trends from within their sector. This rings true for many industries, and the life sciences are no exception. Having a shiny shop window is one thing, but making the most out of your life science sales efforts requires more than just a dazzling skin. When it comes to maximising your life science website's revenue-generating potential, there are some important principles you'll need to apply. Get them wrong and, much like a high street shop, a negative user experience will usually mean that your potential customer simply won't come back for a second look.
To help circumvent this risk, we've outlined five of the most common problems your target audience may experience when engaging online with your life science brand—and how to fix them!
Issue 1: Your customers can't find your website
These days, a web search is the primary way new customers discover products and services that meet their needs. In fact, nine out of ten online experiences begin this way, yet three quarters of people never scroll past the first page of results! To stand the best chance of getting in front of your target customers, you'll want to be top of the pack (or at least above your competition).
Ranking highly on Google organically is a powerful way to get people to your website, but it doesn't happen overnight. To encourage search engines to truly love your site, you need to do your research, put a clear plan in place, and continually monitor and optimise, so that you're consistently achieving the very best results.
Google (and other search engines) look at two key factors when ranking their search lists. The first criteria—relevance—is all about whether you're in tune with what your customers are searching for. After all, if you're not talking about their challenges on your website, then it'll be harder to appear in searches, and why would they look to you to offer a solution? For this reason, it's important to proactively investigate the keyword terms and questions your customers are actually searching for, and use them across your website, blogs and other content.
However, it's not just what you're saying, it's also about where and how you're saying it. Take a look at your online offering. Are you using search engine-friendly URLs, page titles and meta descriptions? Are your H1s, H2s and H3s fully optimised to boost your page rankings? If not, you're probably not achieving your full potential—no matter how good your content is!
The other important factor in search engine optimisation (SEO) is authority. In other words, are you the go-to source for information in your industry, and are other websites linking to your content?
Inbound links are often credited as the most important factor for effective SEO, and are a major factor contributing to domain authority. Here, it's not about quantity, it's about quality and which sites are linking to you. The easiest way to develop a reputation as the authority in your field is through publishing ridiculously good content that resonates with your customers, and is worth sharing.
Issue 2: Your customers can't find what they're looking for
We've all struggled to find groceries in the supermarket and have been left feeling frustrated and unfulfilled—and the same thing can happen online. While you might have created the perfect digital content offering, if your customers can't find it easily, they'll simply look elsewhere.
How you structure your site matters, because a well-organised website helps visitors understand where they are, what's around them, and what they can expect to find. Good information architecture not only influences the way your visitors navigate through your website, it also guides your content strategy too.
So whether you're redesigning your online offering or just want to squeeze more potential out of your existing website, think about conducting a usability review, and make sure you consider:
Your website structure – how you'll categorise your information
Your labelling system – how you'll link to key pages and information
Your navigation system – how your visitors will move through your site
Your search system – how your visitors will find information
Your content hierarchy – how you'll structure the content on your page
And with 50% of all content now browsed on mobile devices, it's important that your website is accessible whatever device the visitor is using. Do you really want to risk losing half of your customers before you've even told them what you can offer? Not only is 'device agnosticism' essential for an excellent user experience, but Google's 'mobile-first index' means it's soon set to play a key role in search ranking too.
Issue 3: Your content doesn't engage with your target customer
With 47% of consumers viewing three to five pieces of content before talking to a company's salesperson, presenting digital content of a consistent quality is vital for successful life science sales enablement.
To build and maintain a strong relationship with your prospects and nurture them into loyal customers, it's essential that the content you produce resonates with them. So, whether you're telling your story though blogs, articles, videos, animations or podcasts for it to be shared, linked to and liked, it's got to be engaging and it's got to offer real value.
Before creating your online content offering, think about who your ideal customers are and what they want, need and expect. Will your content be relevant and will it resonate? Is your language relevant to them, rather than you? And is it appropriate and accessible at the right stage of your user's lifecycle? Having a buyer persona-driven approach to your content strategy is one robust method of creating content that is able to really drill down to your ideal customers' challenges and communication styles.
Also consider what your content says about your brand. Are you positioning yourself as trustworthy and reliable? Life science buyers place the trustworthiness of information sources as a key factor influencing purchasing decisions, so ensure that the insight you offer is backed up by original and valid sources.
Issue 4: Your customers don't want (or know how) to take the next step
Having interesting, informative and sharable digital content on your website is essential for engaging with new and existing prospects. However, it's important to remember that the ultimate goal of your online offering isn't simply to educate and entertain your audience. To turn your website visitors into customers, you need to encourage them to take the next step.
Effective and appropriate 'call to actions' or CTAs should therefore be a key part of any website, blog or marketing channel. But before incorporating CTAs into your digital platform, put yourself in your customer's shoes. What's your prospect's motivation for clicking on that button, and what will they be rewarded with when they do? Is that 'contact us' link truly appropriate at this stage of their user journey, and will it nudge them in the right direction? What are their fears and why might they hesitate to make the next move?
So, to build trust with your prospective buyers and encourage them to take the next step, it's important that your CTAs are relevant, compelling and deliver on their promises. And remember; make sure your CTAs are clear on what your visitors will be getting when they click, just like in the example below.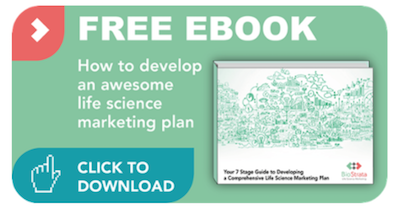 Issue 5: You don't know how well your website is working for your customers
There are a whole host of factors that can impact on how well your website performs at turning visitors into leads, and leads into customers. Your buyer personas and marketing tactics, an individual user's device type and location, and even the time of year can all influence how your prospects will engage with you online. In order to adapt your digital offering accordingly, you will need to understand how these components impact on your users' behaviour. That's why before you start planning how you'll optimise or redevelop your website, you need to find out how your existing visitors are engaging with you online.
For example, do you know where your visitors are located, what devices they're using, and what traffic sources they are visiting from? Once they reach your site, how long do they spend browsing a page? And most importantly, where do they go next? Here, a large increase in the number of website bounces could be a sign that your new content simply doesn't resonate with your target audience, or that the content is over promising and under delivering.
To gather this insight, website analytics are vital. Free tools such as Google Analytics are invaluable when mapping out how your visitors move through your website. The use of heatmaps, generated by using services such as SessionCam, can even show you how visitors interact with individual web pages and can be extremely useful when optimising content and layout. We use website analytics company HubSpot to provide additional information around user journeys in order to better manage digital content as part of a wider marketing and sales pipeline. Together, these tools can give you a good idea of how your content, site design and user experience are performing for your target audience; in other words, what's working, and what isn't.
Once you've gathered this insight, it's then possible to plan and implement improvements. But while you might have a good idea of how changes to your digital offering may improve your sales efforts, you won't know for certain until you put them into practice. Here, A/B testing can be a valuable way of cost-effectively trying out potential changes without committing significant amounts of time and resources into a full-scale roll out. There's a wide range of testing platforms out there—from Google Optimize and HubSpot, through to your existing CMS. So go on, run some experiments!
Remember, your website and blog are the most powerful tools you have for building a lasting and effective relationship with your customers—so make sure you're using them to their full potential.
For a quick and simple check up on your life science company's digital health, download our checklist of the essential factors you need to consider to maximise sales from your website.