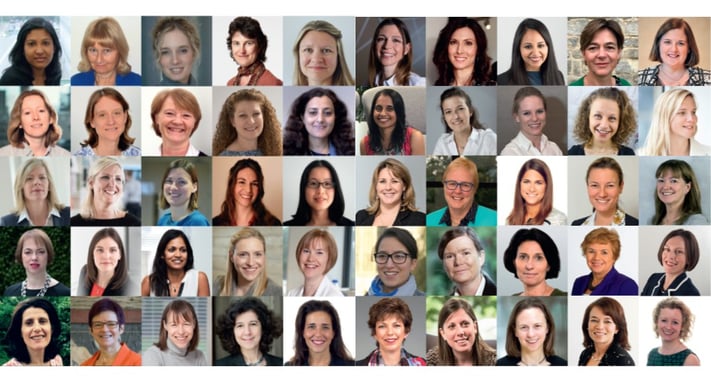 Now in its fifth year, BioBeat is a collaborative innovation platform for bioentrepreneurs and leaders that helps drive innovation and progress in the biotech and pharmaceutical industries. Its annual 50 Movers and Shakers in BioBusiness report demonstrates the achievements of female entrepreneurs and trailblazers in the life sciences. The upcoming BioBeat17 summit will also bring together thought leaders in the field, kindling fresh ideas and discussions around the summit theme of 're-shaping biotech partnering'.
BioStrata is proud to partner with BioBeat to raise awareness of this important topic across the life science sector, and we have enjoyed getting a preview of the 2017 report as part of this partnership (which was published on 2 November). Here we provide a quick snapshot of this year's report, although all 50 "Movers and Shakers" are too many to mention in this short post! So we have highlighted just a handful of these talented leaders as typical examples of how they are all overcoming global healthcare challenges.
The 50 Movers and Shakers in BioBusiness report
Along with BioBeat's other partners and supporters (The Francis Crick Institute, the University of Cambridge Judge Business School Entrepreneurship Centre, Innovation Forum and Naked Ideas), BioStrata has been working together with BioBeat to support the recent release of its 50 Movers and Shakers in BioBusiness 2017 report. This features 50 inspiring women—including 16 Rising Stars—who are driving innovation in bioscience across five key translational themes: great science, financial enablers, collaboration, patient impact, and infrastructure innovation.
"These women's achievements demonstrate expertise in their specialised field, general management skills, and an ability to collaborate across disciplines," says Nikki Yates, Senior Vice President at UK & Ireland Pharmaceuticals, GSK. "Diversity of talent is critical to life sciences and it is great to see the contribution these women are making."
Who are this year's Movers and Shakers?
The achievements celebrated in the report's five themes are as diverse as they are numerous. In this brief blog post, it's difficult to do justice to all of them. So we've decided to look at each theme in turn and highlight a few examples of the featured women and their successes, as well as some of the 'top trends' they think we should watch out for:
1. Great Science: Who's making outstanding contributions to scientific research?
Rising Star Ruchi Sharma, CEO and founder of Stemnovate, is one example of an individual really driving industry-leading progress. Her team is developing innovative organ-on-a-chip technologies as alternatives to animal research for drug discovery. After founding Stemnovate in 2016, Ruchi led the company to develop miniature models of human organs that mimic biological functions, including raising £1m to fund a 'liver on a chip' technology with Innovate UK that could help to develop new treatments for liver disease.
"Stem cell research, bioengineering and artificial intelligence are trending technologies that will change the way drugs are developed and used in the near future," predicts Ruchi in the report.
2. Financial Enablers: Who's driving investment in life science?
One of the financial enablers presented in the report is Melanie Welham, CEO of the Biotechnology and Biological Sciences Research Council (BBSRC). Melanie is leading the BBSRC's £400 million annual investment in research, training, and infrastructure, playing a key role in identifying and funding under-resourced but promising research opportunities in nutrition and the microbiome.
Looking to the future, Melanie says, "Disruptive technologies often emerge at interdisciplinary interfaces – for example, Synthetic Biology is a key area to watch."
3. Collaboration: Who's bringing together innovative partnerships?
Among the individuals recognized in this theme is Professor Véronique Birault, Head of Translation at The Francis Crick Institute. She is establishing collaborative links between industry and academia to accelerate the translation of new discoveries, and will be sharing her expertise and predictions for the future at the BioBeat17 summit (places at this event are limited, so if you are interested in attending register here).
4. Patient Impact: Who's directly improving the lives of patients?
Rising Star Liberty Foreman, co-founder and CEO of Beamline Diagnostics, is one of a number of inspiring women included in this section of the report. She is leading the development of a laptop-sized device to identify healthy, benign and potentially cancerous tissues from biopsies—right next to the patient's bedside. The clever device combines unique software with an infrared spectrometer to detect subtle differences in infrared light absorption that exist between healthy and diseased tissues.
5. Infrastructure Innovation
:

Who's enhancing company operations and strategies?

One of the leaders featured in this theme is Heather Fraser, Global Leader of Healthcare & Life Sciences at IBM Institute for Business Value. Recognized for her efforts in changing how healthcare providers perceive new technologies, Heather is improving patient outcomes by promoting the use of emerging technologies, such as cognitive computing in pharmacovigilance.

"Digital reinvention in healthcare and life sciences organizations will continue to disrupt business models and place patients at the core of the ecosystem using technology," predicts Heather in BioBeat's report.

To find out more about all 50 talented women entrepreneurs and leaders (and what they have been doing to transform our healthcare), download the full report here: