Each year, hundreds of runners ranging from the professional to the amateur (and the optimistic), congregate on Cambridge's Queens' Green, for a truly charitable event. Chariots of Fire is a 16-kilometer relay race, and one of the city's largest charity dashes – this year attracting 380 teams.
Every year the race, organized by Hewistons Charitable Trust, is run in the name of a different charity, and this year the chosen cause was the Papworth Hospital Charity. Here at BioStrata we love the idea of supporting local charities, so we decided it was time to dust off our running shoes (or in some cases, buy a pair for the first time) and get out there!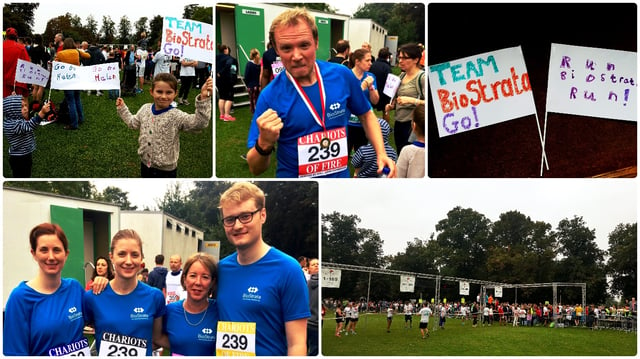 Go Team BioStrata!
A good cause
Papworth Hospital, located just outside of Cambridge, is the UK's largest specialist heart and lung hospital, and alongside the implementation of cutting-edge medical treatments, is at the forefront of the nation's cardiovascular and respiratory research. Each year, the hospital treats 80,000 patients and relies on the support provided by the Papworth Hospital Charity to continue saving and changing lives. The hospital currently has just under 150 active research projects and works closely with the University of Cambridge to look at new/improved ways to treat patients with a range of heart and lung disorders, such as coronary heart disease, abnormal heart rhythms, and cystic fibrosis.
Considering our team's extensive experience with benchtop research, and our work within the medical and life science fields, this seemed like an excellent cause for us to get a team together!
Taking up the baton
The race took place on a picturesque Sunday morning in September, and was opened by none other than world champion and GB Olympic diver, Rebecca Gallantree. The course, almost unchanged in the 25 years since the run's inception, took racers through the grounds of some of the University's most well-known colleges, and was run by delegates from a number of backgrounds. Perhaps the most inspiring team, and a reminder of the importance of the event, was a team of transplant patients treated by doctors at Papworth. To see these ex-patients take on the challenge and beat the course, was a cause for celebration from all attendees.
The charity reported raising over £58,000 from its Just Giving page alone, with all proceeds going to DCD transplantation and related causes. It was an extremely enjoyable race, with plenty of supporters and teams in fancy dress. We look forward to taking part again next year (although, with a bit more training beforehand with any luck!).


If you'd like to donate to the Papworth Hospital Charity to support their cutting-edge research and help save lives, simply click the button below.