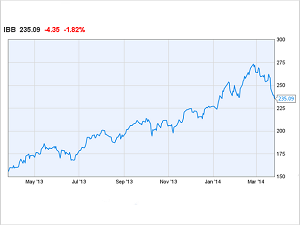 As I'm sure you've noticed, the biotechnology world has grabbed a few business headlines of late with what feels like a dramatic "sell sell sell!" moment along with speculation as to whether or not biotechnology is in a (bursting) bubble. The sector initially boomed with the promise of novel healthcare options in the wake of the the impending 'personalised medicine' era, and despite the relative delay of this technological advancement, a great swathe of companies have made huge profits from this market. Is biotechnology now really on the decline?
A wealth of input
Although biotechnology impacts everything from medicine and diagnostics through to bioprocessing, agriculture and household product development, the sector has enjoyed such successful growth primarily due to the many beneficial avenues of medical treatment it brings to the table, and is still a market estimated to exceed $320 billion by 2015. With key market segments like biological therapy, genetic testing and biopharmaceuticals, biotechnology has been a dominant force in the healthcare world. Yet with a constant demand for new and improved therapies, coupled with the substantial financial investment for drug R&D, it's starting to look unlikely that biotechnology can continue at its current growth rate. To make matters worse, certain companies have been criticised for pricing medicine beyond the reach of many patients, resulting in local biotechnology stocks suffering a major fall.
Less plummet, more plateau?
Biotechnology has always been a high risk, high reward industry and with such a prolific rise perhaps the relative decline represents more of a levelling-off than a real downturn. Indeed, this is what several Wall Street experts are hypothesising; this may actually be a "typical adjustment period following a steady run-up", according to people such as John Tobey at Forbes. Based on these ideas, it might be worth holding on to those shares for now if you can stomach the immediate turmoil! After all, recent drug development efforts have still yielded a string of high profile successes and the US FDA drug approval rate is up from 24 per year to 32 per year according to Maxim Group's Jason Kolbert.
The bottom line is that while a lot of investors have opted to dump shares, others are stoically riding out what experts are seeing as a plateau in the biotechnology markets, with a real possibility to rebound. Industry development is still pushing the boundaries of modern medicine and we're tending to side with those envisaging that biotech will continue to be a highly profitable market to be involved in. The key to continued success will be finding a way to take full advantage of new developments as and when they occur, as well setting drug prices that are competitive, rather than exclusive.
Image: The Nasdaq iShares Biotechnology Index, by YCharts