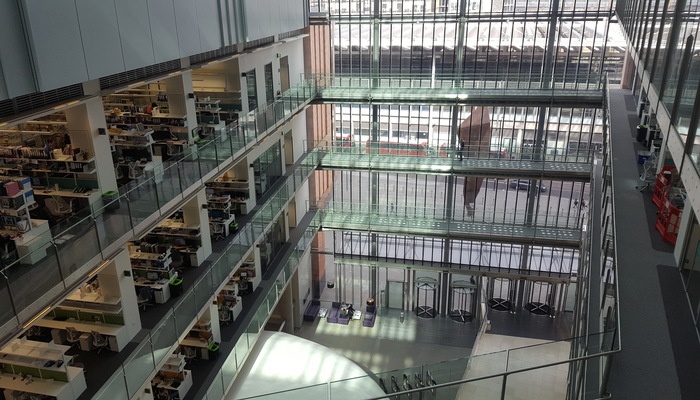 Like its Nobel laureate namesake, the Francis Crick Institute is a scientific force to be reckoned with. Opened by the Queen in late 2016, this £650 million research facility represents a landmark partnership among six leading organisations that share a common goal: advancing biomedical research to address the most urgent health concerns of the 21st century. In a recent visit to the Crick, we put this new facility under the microscope and were intrigued to discover a prevalent collaborative culture. Could this approach set it apart in its quest for scientific excellence and innovation?
Unique partnerships to overcome disease
The new Francis Crick Institute is the largest biomedical research facility housed under a single roof in Europe. Nicknamed the 'cathedral of science,' this award-winning 980,000 square foot building in north London is impressive in appearance, with its steel, glass and terracotta exterior and architectural nods to local history. Yet, it is even more striking considering what it represents. The Crick is the result of a unique partnership formed in 2015 with the aim of pursuing cutting-edge multidisciplinary research to tackle the world's most serious diseases.
The partnership involves the Medical Research Council, Cancer Research UK and the Wellcome Trust, as well as three top universities — University College London, Imperial College London and King's College London. Their integration into one institute has created a diverse community of around 1,500 scientists and staff, where biologists, chemists, physicists, engineers, computer scientists and mathematicians alike are tackling a range of diseases, including cancer, heart disease, stroke, infectious diseases and neurodegenerative disorders.
We visited the Crick with great interest, due to its commitment to biomedical research excellence, and its multidisciplinary and collaborative approach, which resonates with our own ethos here at BioStrata. Our guide, Amelia Edwards, is a Senior Laboratory Research Scientist in the Advanced Sequencing Team, which provides next-generation DNA sequence data for a wide variety of research projects at the institute.
One of these projects is the Tracking Cancer Evolution Through Therapy (Rx) (TRACERx) project. Led by Professor Charles Swanton and his team at the Crick, it is the largest single investment into tackling non-small cell lung cancer by Cancer Research UK, involving a vast collaboration of hundreds of researchers worldwide. During our tour, we discovered that this is just one of the many ways in which the Crick brings together diverse groups of scientists to promote research excellence and generate innovative treatments.
Dismantling the barriers to collaboration
Not only has the Crick emerged from an exceptional feat of teamwork among its six founding partners, but its central philosophy is pinned on the importance of collaboration in advancing science. Two of its strategic priorities, to collaborate creatively to advance UK science and innovation, and to pursue discovery without boundaries, emphasise the Crick's strong drive to encourage its researchers to explore their scientific fields fully, outside the confines of their own expertise.
So how has this philosophy been put into practice? Stepping inside the building, we saw evidence of transparency and connectivity everywhere we looked. Glass-panelled walkways connect four main lab areas across two central atria. This vast, illuminated space creates a peaceful community hub on the ground floor where groups can sit on comfy sofas and engage in deep conversation. On each floor, the only partition between the laboratories and the central atria are chest-height glass panels, allowing clear visibility into the labs opposite.
As well as reducing physical barriers by its design, the Crick also strives to dismantle communicative barriers. Having involved the local community from the outset, the Crick has an ongoing emphasis on promoting public engagement, and its extensive programme of seminars, lectures and symposia helps it to engage with the wider scientific community.
Perhaps most importantly, the Crick also seeks to overcome any intellectual barriers to research discovery. Scientists consult with interest groups as their research develops, and by working closely with experts outside of their research field, they can identify and progress discoveries that may be useful in other areas. They are also encouraged to work closely with representatives of the pharmaceutical industry to identify any research discoveries that have real clinical potential, advancing their translation into new treatments.
Turning teamwork into treatments
Only six months after opening, the Crick is already pushing scientific boundaries and paving the way to new disease treatments through its collaborative efforts. For example, fifteen Crick researchers from four different laboratories have recently co-authored a ground-breaking TRACERx study published in Nature, reporting how circulating tumour DNA (ctDNA) can be used to predict cancer relapse much earlier than current methods.
This study, involving a total of 103 co-authors from 57 institutes worldwide, showed that profiling ctDNA in patient blood could predict cancer relapse up to a year earlier than X-rays and CT scans. As such, ctDNA could help doctors identify and treat tumours earlier, and could also guide the development of personalised cancer treatments that target the specific characteristics of individual patient's disease.
Another recent collaborative breakthrough at the Crick has changed our understanding about the virus used as a vaccine to eradicate smallpox: The Vaccinia poxvirus. The study, published in Cell Reports earlier this month, showed that Vaccinia needs proteins from the host cells it infects to replicate its DNA, which revises current assumptions.
This collaboration between the Crick's Cellular Signalling and Cytoskeletal Function Lab and the High Throughput Screening Lab found that one of the host proteins, called ATR, may promote viral DNA replication in the same way it naturally prevents damage caused by errors during host DNA replication. This crucial discovery could help improve the way Vaccinia is used in future vaccines, and in cancer immunotherapies, to enhance treatment success.
As the Crick's diverse group of researchers continue to expand our understanding about the world around us, and as its collaborative culture seeps into the wider scientific community, it is more than likely that we will see many more exciting discoveries that could revolutionise the way we treat disease.
If like us you are fascinated by the Crick and want to discover more about its hallowed scientific halls, then why not take a look at the new building yourself and check out the free exhibitions and events in its ground floor public gallery.
To stay up to date with our explorations into the fascinating world of science, why not sign up to our newsletter today?