What does it take to have a fulfilling job and career? What would make a business a fun, stimulating, and rewarding place for you to work? These are just some of the questions that we ponder when thinking about how to help the team here at BioStrata reach their full potential, do their best work and enjoy themselves while doing it.
In this blog, we explain what it's like to work at BioStrata and what it's like for clients to work with us. We'll discuss this by looking at how our business model helps us to deliver a win-win-win scenario for the members of our team, our clients and the wider world (as well as information on how you could join us on our mission).
Contents
What is the BioStrata "3 Ps" model?
The "3 Ps" make up our business model, covering People, Purpose and Profit (in that order). By supporting the team, we can achieve our purpose of bringing game-changing scientific offerings to market by doing a great job for our life science clients, which in turn brings in the profits needed to further invest in our people and work. In the following sections, we'll go into more detail about each of the "3 Ps".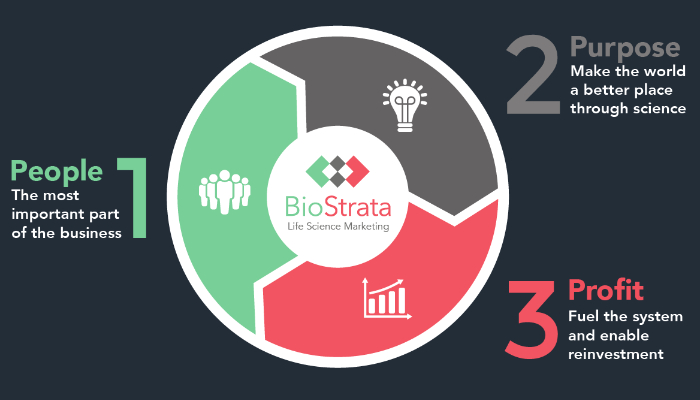 "P" Number 1: People
Put simply, our people come first. At BioStrata, our team is at our core and looking after them is our number one priority. If the business takes care of our people, they are free to focus all their energy and ingenuity on delivering world-class work for our clients.
Our team is made up of like-minded, enthusiastic people who combine 100+ years of world-class marketing skills and PhD-level scientific knowledge (you can learn more about the BioStrata team on our Team page).
What makes our team unique is that we all live and breathe the same core values. These aren't just words written on a wall, they're the magnets that attract other like-minded people to work with us as clients and teammates. They're the compass that guides our ethos, decision-making and daily behaviour. Weekly and quarterly, we nominate and celebrate one another with internal awards for demonstrating these core values (no matter how big or small the reason may be).
Our core values are:
Think team first
Do the right thing
Do a ridiculously good job
Live to learn
Get stuff done
Be an analytical thinker
Be a modest expert
You can delve deeper into what the BioStrata core values mean on our About us page.
Every day our team comes together, bringing their passion, energy and knowledge to deliver on our mission to help connect people and technology, drive scientific discovery, and make the world a better place. Without looking after our people, we wouldn't be able to produce the best work for our clients and deliver on our purpose (which is where we turn to next).
"P" Number 2: Purpose
Over the next 10 years, our purpose is to help life science companies launch 100 game-changing products that will make the world a better place for everyone. Whether that's tools to help researchers unlock the mysteries of the world, diagnostics for healthcare providers, new drugs to help treat and prevent diseases, or services and technologies to tackle challenges like the climate crisis. But these life science specialists can only do this if they have access to the very best technologies, tools and services they need to make real progress.
That's where BioStrata comes in. People can only select and purchase things they've heard of, and they'll only buy things they understand, from companies that they trust. Every day we aim to help life science companies overcome these challenges. We help them deliver messages that will truly resonate with the goals, needs and pain points of their target audiences. With passionate people working on this important purpose, we can drive the profits needed to further invest back into our people and work.


Watch the video to hear more about our mission from our CEO, Dr Paul Avery.
"P" Number 3: Profit
Doing great work for our clients helps us deliver profits for the business, which we can then reinvest to ensure our people are supported and rewarded in every aspect. It also means that we can generate the funds needed to continue to invest in a wide range of team training and development opportunities, continue to expand our pay and benefits to ensure they are the best in the industry, and bring in more experts to join the team. This gives our people the tools and time that they need to reach their personal goals, while helping the wider scientific world succeed. In this way, profit fuels our flywheel to further stimulate the process.


Watch the video to learn more about how our "3 Ps" helps our team reach our goals from our CEO, Dr Paul Avery.
How does our "3 Ps" business model benefit the team at BioStrata?
The "3 Ps" are designed to give our entire team clarity on what's most important to us all and where we are headed. When making decisions about the future of our business, we always ensure decisions are made with the best interests of the team in mind. Here are some of the ways we do this.


A flexible, open, empowering working environment
We operate a hybrid model with an open view on flexible working (something the team deemed important). Our agency operating system offers a clearly structured, open and transparent environment, ensuring everyone's in the loop about where we are, where we're going and how we plan to get there. We hold quarterly company meetings that cover all of this and allow everyone to ask questions along the way. We also run structured weekly team meetings that include dedicated time for solving any issues or barriers to completing projects and goals. Our People and Culture Manager actively seeks team feedback and launched a quarterly engagement survey to help us ensure the team remains motivated and fulfilled. We also take a pulse once a week to see how each team member is feeling (so we can help improve things, where possible).


Industry-leading salary and benefits package
We aim to look after the team by maintaining above industry average salaries, as well as offering an annual performance-based bonus scheme. We also provide private medical insurance, group income protection, critical illness cover, and life insurance cover.
Loyalty rewards are given to individuals upon their joining anniversary ranging from £40 vouchers to £1,000 contribution to a family holiday. We also provide birthday gift cards and celebrate birthdays and important life milestones.
Our holiday scheme includes 25 days of annual leave plus all bank/public holidays and an extra day on Christmas Eve for family time. After 3 years of service, the team accrues a day per year up to 28 days.


Dedication to personal and professional development
We're dedicated to our values and "Live to Learn" is one of them and something we believe is paramount to the success of our people and the team. Our proven talent development process includes access to a wide range of written, audio and video training materials, as well as a dedicated training budget for external courses and events.
Support and mentoring are also a major part of how we help team members reach their full potential, with feedback and coaching provided in a safe, friendly environment. This year, a key business goal is to give the team the power to discover and pursue their personal and professional dreams. We aim to do everything we can to help elevate the team to where they want to be.


Focus on physical and mental well-being
The team's physical and mental well-being is important to us, and our wider benefits package was designed in collaboration with the team. These benefits start on day 1 of employment and include access to:
Perkbox, delivering hundreds of benefits and discounts (including a Wellness Hub).
YuLife, gamifying physical activity with rewards to incentivise our team to invest time in their own well-being.
An in-house yoga teacher holding weekly classes at our offices.


Work alongside supportive, like-minded teammates
We all live and breathe the same core values and we can be safe with the knowledge that our teammates will always have our back, share the same passions as us and will work as diligently as we will. We think you'll be surprised (and genuinely delighted) at how our approach really does create a dynamic, rewarding environment, where people genuinely enjoy working together.
What's more, thanks to our Office Manager, Debbie, you'll also get the chance to enjoy dedicated downtime at our quarterly social events, Summer and Christmas parties, and other ad-hoc socials such as bowling, go-karting, pizza, aqua park visits and film nights.
You can read more about what it's like to work at BioStrata on our Careers page.


Watch the video to learn more about how our "3 Ps" benefits our team from our CEO, Paul Avery.


How does our "3 Ps" business model benefit BioStrata's clients?
We've found that our clients love working with an agency that is as passionate about their business and customers as they are. Our purpose is to launch 100 game-changing life science products and services... What this means in practice is that we are always looking to work with clients that want to have a positive impact on the world (either via their existing offering or via new products they want to launch in the future). Our passion and dedication in this area is often in strong alignment with their own reason for existing, meaning that everyone is rowing in the same direction.
Our clients are also looking for access to a world-class team of experts, with the time, energy and support needed to deliver world-class results. Here, our passion for putting our team first delivers on these requirements. What's more, our approach makes BioStrata a great destination for future talent, so our clients can have confidence that our team will scale as their needs grow in the future.
Finally, we've found through experience that our clients get the best results when we work together to develop long-term relationships that bring added efficiency and benefits over the long term. For this vision to be realised, they need to be confident that BioStrata will be around for the long term. That's why we run a professional and sustainable business, designed to generate a profit that allows us to continue to invest in BioStrata's growth and development with the ongoing goal of being the best life science marketing agency in the world. In combination, these factors put us in a strong position to deliver exceptional results for our clients.


Watch the video to learn more about how our "3Ps" model benefits our clients from our CEO, Dr Paul Avery.

Interested? Learn more on how you can get involved as a teammate or client
If this explanation of our "3 Ps" model has resonated with you, then we'd love to hear from you. Whether it's because you like the sound of how we work as a team at BioStrata and are interested in joining us, or you're working for a life science company and are interested in utilising the expertise of our team and services, then simply get in touch with the team as we'd be more than happy to discuss things further.
Alternatively, if you'd like to take a look at our existing job openings then check out our careers website page. You can also hear directly from the team in these testimonial videos about what it's like to work at BioStrata.