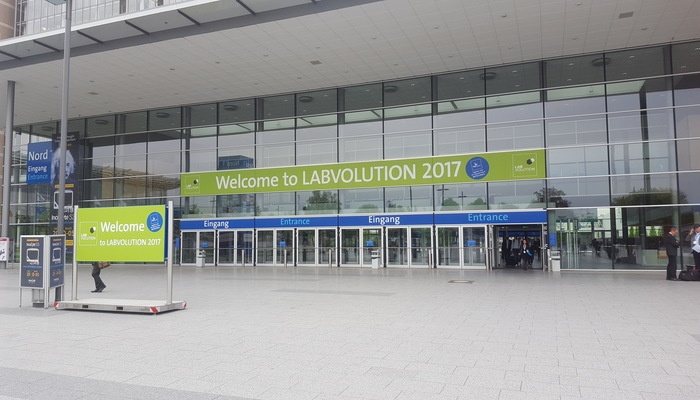 Held this year in Hanover, Germany, LABVOLUTION is a European trade show for individuals seeking to discover the very latest innovations in laboratory equipment and workflow optimisation solutions. The event features a broad spectrum of products and services from a range of disciplines, from 3D printing and data analysis, to agricultural and diagnostic products. Last year, LABVOLUTION joined forces with the ever-popular trade show BIOTECHNICA, which was formally aimed at those working within the European biotechnology sector. The coming together of these two shows has meant delegates from far and wide are able to experience some of the most cutting-edge tech and insights from a broader range of scientific disciplines.
We were excited to attend this year, as our team loves learning about the new and exciting innovations under development in the life science industry. We were not disappointed, as we found the show's transformation from a pure biotechnology-based event was evident not only from the wide range of exhibitors in attendance (with around 100 companies attending for the first time), but also the range of delegates at the event, with scientists from virtually every field attending. Here's what we saw at LABVOLUTION this year.
Digitisation and the ongoing move towards 'Smart Labs'
This was the first year that the LABVOLUTION trade show has existed in its new format, and it got off to a fine start, bringing together innovative laboratory equipment and solutions for workflow optimisation from all corners of the industry. The three-day event drew colleagues from industry and academia alike, with a strong emphasis on how today's laboratory workflows can benefit from digitisation. This message was supported by the smartLAB Group, comprised of 13 industry and research organisations, whose display let delegates delve deeper into the future of the lab, and also gave them the opportunity to put various components through their paces.
The special smartLAB stand was definitely a focal point of the event, which included a fully-functional model laboratory. It was also here that the contributing organisations presented live 'case studies' as well as a number of talks on the digital laboratories of the future. Topics included 3D printing, the use of automation and robotics, intelligent surfaces, data glasses and the digital integration of a diverse range of components.
In addition, digitisation, big data and the integration of workflows were popular topics at exhibitor stands, with some companies focusing on the latest technical standards and equipment, as well as communications interfaces and the potential for automatically collecting and analysing large, heterogeneous volumes of data.
One of our personal highlights was seeing the worlds of academia and industry combine, with a strong presence from universities and careers guidance available for younger delegates. We are already eagerly looking forward to the next LABVOLUTION event in 2019!
LABVOLUTION is just one of the highly-valuable trade shows we'll be visiting in 2017. To stay up to date with what we learn throughout the year, sign up to our newsletter.