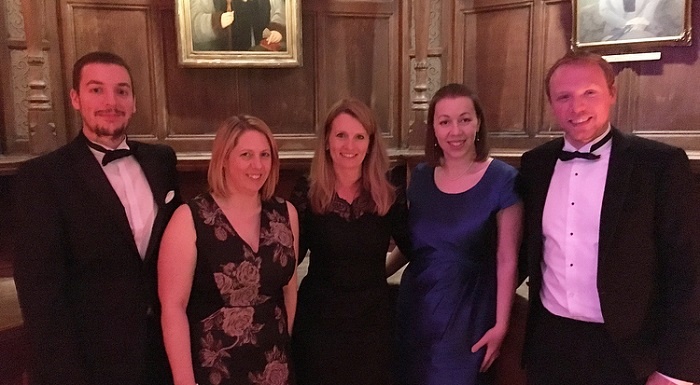 BioStrata is proud to have been shortlisted as a finalist for 'Small Business of the Year' as part of the Cambridge News Business Excellence Awards 2018. The awards culminated in a gala ceremony on 22 March at King's College, Cambridge, which was hosted by John Pienaar, the BBC's deputy political editor.
Clare Russell PhD, co-founder and Managing Director of BioStrata, commented: "A huge congratulations to all of the finalists and winners at the 2018 Cambridge News Business Excellence Awards. It was great to hear so many success stories at the ceremony, particularly from the area's life science sector. The awards demonstrated how Cambridge continues to be a vibrant and fast-growing hub for innovation, entrepreneurialism and business growth. We're very excited to be part of that and to recruit local and international talent to join our team".
Scientific experience is at the core of everything BioStrata does: the team includes eight PhDs, two MScs and many others who spent time in laboratories at the start of their careers. This specialist knowledge, dovetailed with extensive commercial and marketing expertise, means BioStrata can communicate effectively with the audiences who life science companies want to reach, turning information into creative, inspiring messages that resonate with customers and drive action.
Paul Avery PhD, co-founder and Managing Director of BioStrata, said: "Our ethos is centred around partnerships and delivering the highest level of service, value and return on investment for life science companies. BioStrata aims to do a ridiculously good job for our clients and, as a result of the quality of our work, is proud to have retained these relationships over time—many companies have worked with us continually since we were founded".
Through this positive client feedback and associated year-on-year growth, the life science sector has made it clear how much it values BioStrata's niche industry focus, high-quality specialist services and critical thinking.
BioStrata is recruiting new roles to support the delivery of its marketing communications services. More information can be found at www.biostratamarketing.com/about-us/careers/.