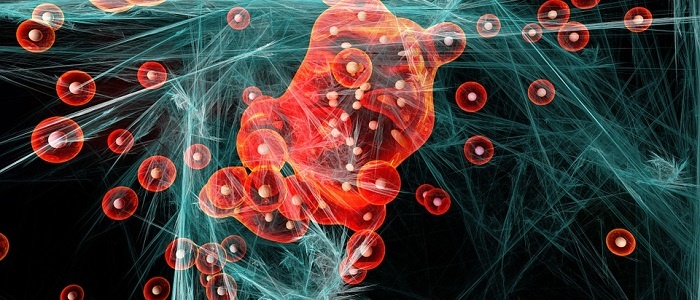 At BioStrata, we're big fans of taking a scientific approach to marketing. From high-level strategy and planning to customer engagement and retention, your marketing efforts will be a lot more effective if they're based on solid data and key metrics. This is why we were so chuffed to find this scintillating infographic, which reimagines Mendeleev's periodic table of elements in terms of the essentials of a successful content marketing strategy.
The Periodic Table of Content Marketing was put together by Chris Lake, CEO of Empirical Proof, back in 2014. And even a couple of years on, it's still as relevant as ever. In the table, each "element" of content marketing is colour coded according to one of eight stages of an optimal content marketing strategy.
Check out the infographic below, followed by some tips on how to optimise each step for content marketing in the life science sector: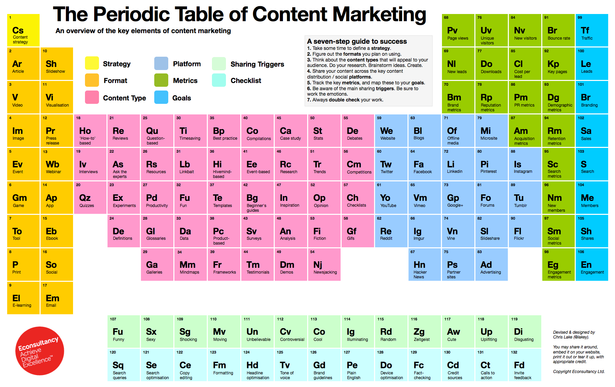 Define your strategy



Even though this stage only takes up one element, it's the most important and lays the groundwork for all the rest. When defining your content marketing strategy, it pays to be as detailed and in-depth as possible. Your strategy should tie into your business goals and should target the correct personas. This is especially true when focusing on the life science sector, as the needs of your target market are more niche and specialised than that of your average content marketing strategy.
Choose your content formats
It's important to use the most effective content format for your target audience, as people often consume media in very different ways. Don't be scared of mixing things up as well, as a variety of formats will keep your overall strategy fresh. For more on choosing the right content formats for life science personas, check out our previous blog, "Which content marketing formats are best for targeting life science buyer personas?". Repurposing content into different formats is also a great way to bulk up your content strategy, and lets you get more from high value pieces of content. For more on this, check out our blog, "How to repurpose existing content for your life science content marketing strategy" .
Determine the best content types
This section outlines the many different types of content that you can incorporate into your strategy. As with the format, make sure your content type is suited to your buyer personas. If you're struggling to determine which types are best, why not survey your existing clients asking which they would prefer?
Consider the best platforms for your personas
There are plenty of social media platforms out there, each with their unique strengths and weaknesses. It can be useful to categorise platforms into three categories: owned media, which are platforms like your website and social profiles where you control the content; earned media, where third-parties mention your product; and paid media, like Google Adwords and Facebook sponsored posts. When it comes to B2B life science marketing, LinkedIn and Slideshare are expected to remain the best option for some time to come. For more insight into the future of life science content marketing, check out our blog, "The future of content marketing in the life science sector".
Track your metrics and map them to your goals
These two fields go hand-in-hand, as the metrics you measure and report on should tie in closely with your goals. Just be wary of reporting on peripheral vanity metrics that look nice, but don't relate to ROI and your bottom line. If increased traffic, page views and downloads aren't translating into engagement, leads and sales – something isn't right. Check out our blog, "How content marketing can achieve any company's goals", for some more practical information.
Strategically elicit emotion with sharing triggers
Sharing triggers are important for life science marketers because scientists are human too. Just make sure that your sharing triggers are aligned with your personas as well as your brand's image and personality. For example, your target audience might not find "illuminating" as appealing as "sexy" or "controversial", but does your brand really want to go the clickbait route when sharing an article about the latest scientific discovery?
Double-check your work with a content marketing checklist
This last group of elements acts as a handy checklist to help you stay on track. No matter where you are in your content marketing strategy, always review, analyse and optimise your efforts and processes. This is actually true for any marketing strategy – not just life science content marketing.
To learn more about content marketing for a life science company, download a copy of our free guide, "A Life Science Marketer's Guide to Content Marketing."