We've posted a fair few blogs in our time, covering all sorts from the life science and marketing worlds. So we thought we'd let you in on some of our not-so-secret tips on how to go about writing a successful blog. Turns out, we had so much to share (and in an endeavour to practice what we preach – see point 1 below) that we simply couldn't resist turning this into a mini-series. If you missed part 1 of the essential guide to effective blogging for the life science industry you can catch up here. Further enlightenment awaits in the next five tips below.
1. Short and sweet
It's hard to beat short and sweet in the blogosphere. Get to the point. State the facts. Respect other people's points of view and be positive. No one has time to wade through a woeful waffle, so steer clear of a rant-athlon and you'll soon earn your blog a loyal following.
2. Looking good
The truth is, visitors will want to skim over your content quickly and the easier it's for them to get the information they need, the more likely they are to come back. You can do this by adding headings, subtitles, white spaces and using bold fonts to make your blog easy to scan. Pictures really do speak a thousand words and are processed faster than words, so adding a relevant image to your post will accelerate a reader's ability to capture the information they need. Scanning the blog may mean they miss out on some of the details but those who want to know more will read further and when they do. The one thing that will stand out is a spelling mistake – so check before publishing.
3. Keywords are king
Keywords help search engines to identify content that is relevant to the reader. Nowadays, people are more likely to search for several words rather than just one. While it's important to define these and try to include them in the title, URL, image, meta-description and body text, it's essential to take the reader into account. Optimising you keywords for search engines may get you found but writing engaging content with a catchy title is more likely to get click throughs, be useful to the reader and keep them coming back for more.
4. Sharing is caring
Promoting your blog through social media will increase traffic to your site and this in turn will increase your search engine ranking. Make sure you make it easy for readers to like, share, follow or comment on your blog, then watch your success grow!
5. …and action!
Writing a company blog sets out to attract new visitors to your site and hopefully one day convert them into customers. Including a 'call-to-action' button on your blog page will make it easier for them to find out more about your company and how to contact you. Including links to research papers, external websites or other blog posts will make you more credible to readers.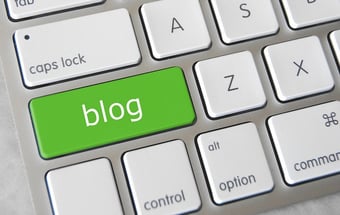 Image: Flickr/GotCredit/Blog/CCBY2.0
Well that completes our top 10 tips on writing a blog for the life science industry. A blog which is easy to read and easy to find is more likely to get shared if, of course, your content is interesting and can capture the attention of you target audience. Capturing their attention is a good start but those all-important 'calls-to-action' really are the key to connecting with your future customers.
If you think we've missed anything that should have made it into the top 10 or want to know more about getting your blog going and help it gain credibility out there in the blogosphere then we'd be happy to help! One easy way to get started is to download our free ebook on turning your website into a marketing and sales machine: