At the beginning of this year, we started working with HubSpot to become an official partner agency. For those that haven't heard of HubSpot, the company is one of the main drivers behind the 'inbound marketing' movement; co-founders Brian Halligan and Dharmesh Shah coined the term in 2006 to describe an integrated way of attracting customers using digital marketing tools. We're now proud to add those tools to our service portfolio and extend the range of benefits we can offer to our clients, helping them to attract visitors, convert leads, close sales deals and turn customers into brand advocates. Our new service page on inbound marketing has all the info you need.
Why partner with HubSpot for life science marketing?
As a specialist life science marketing agency offering integrated marketing services, it makes perfect sense for us to partner with HubSpot. In many ways, most of the services we provide for our clients revolve around our ability to create compelling, credible and inspiring content that science professionals will find interesting and engaging.
Our team of PhD-qualified content generation experts has decades of experience creating everything from infographics and whitepapers to landing pages and emailers. We form a bridge between the internal experts within a life science company and their customers, as we can connect with both as knowledgeable peers. This allows us to help accurately communicate the value offered by our clients, in order to effectively nurture customers through the buying journey. As we have an innate understanding of scientific professionals based on direct experience, we can create content that truly resonates with their challenges, thought processes, goals and aspirations.
However, creating great content is only half the battle. In order for that expert content to influence prospects, it must be easily found. We've supported our clients in this regard for many years, sharing their messages and information via a number of channels, including direct marketing, advertising, public relations, trade show support, email marketing, the development of sales collateral and more. These channels are just as relevant today as they have ever been, as we discussed in another recent blog on inbound versus outbound marketing.
However, by combining specific traditional marketing tactics with inbound methods, we can enable life science marketers to hone their approach and turn their website into the most powerful marketing tool at their disposal.
What is inbound marketing and how does it help marketers succeed?
Inbound marketing uses digital tools to attract new visitors to a website and convert them to leads. This is achieved by offering valuable content that prospects are willing to trade their contact details for in order to access it. Using HubSpot, these leads can be nurtured by tracking their behaviour on a website and across social media, providing them with content that helps them overcome their challenges and achieve their goals.
Using this information, highly qualified leads can be passed on to the sales team at just the right time. Finally, inbound marketing involves continuing to add value for customers long after they have made their first purchase, helping them achieve ongoing success. The aim is to provide so much value for these customers that they recommend you to their colleagues (and the cycle begins again). This is nicely encapsulated in the figure below, courtesy of the HubSpot website.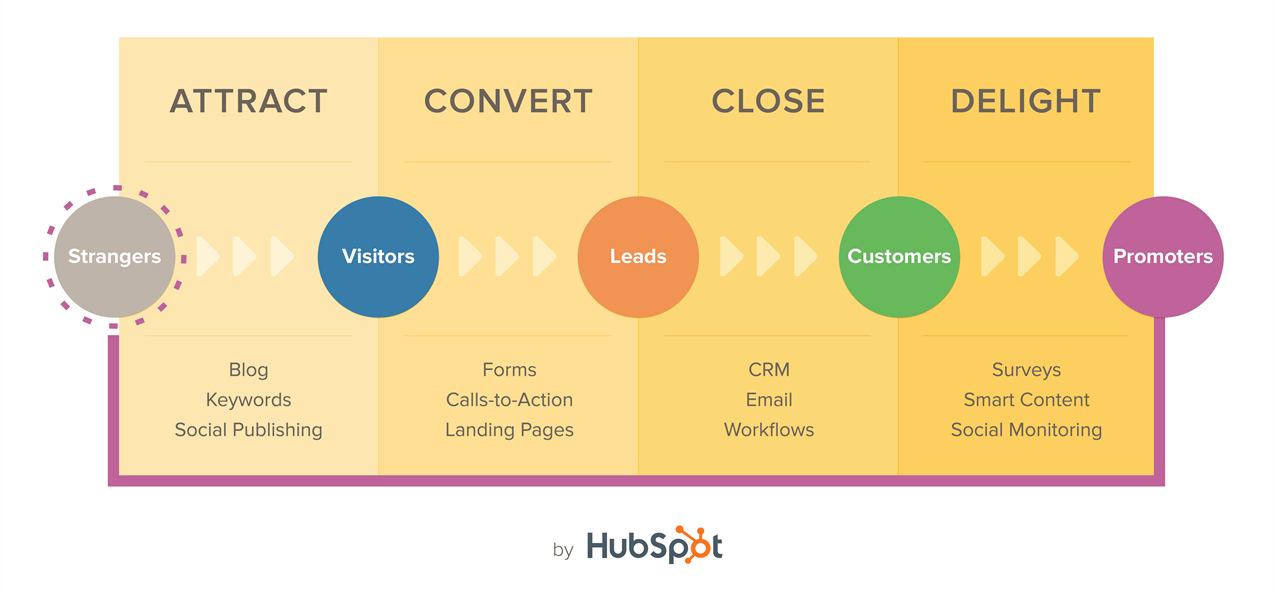 What exactly is HubSpot?
HubSpot is a powerful but easy-to-use inbound marketing software tool. It allows us to work in an integrated way with our clients to execute inbound programmes in a cost- and time-effective way that delivers measurable ROI. Using HubSpot and inbound approaches, we help our clients to:
Generate more qualified website traffic through strategic content generation, blogging, social media and integrated SEO.
Convert more of those visitors to leads through highly optimised landing pages and compelling content offers.
Improve the qualification of these leads through automated lead nurturing that tracks them through the buying journey.
Convert more of these leads into paying customers by enabling automated workflows that better connect sales and marketing and pass leads over to the sales team when they are far enough along the buying journey (and are more likely to be receptive).
Analyse and optimize every step of this process in an iterative fashion, so that they can continually enhance their marketing efforts and demonstrate a measurable return on investment (yep, that old chestnut – finally, an easier way to see what is working and what's not!).
HubSpot's integrated approach allows for a more efficient way of tracking and measuring the success of online marketing programs. In combination with other marketing tactics such as PR, paid opportunities (native advertising, Google AdWords, 3rd party emailers etc.), we think it offers a great way for us to help our clients get more out of their content marketing initiatives and get the most out of the marketing materials they create.
Most importantly, HubSpot is more than a software tool. Inbound is a way of thinking. Once you embrace your internal expertise as one of your main business assets and demonstrate it through content marketing, you are free to attract more customers and better qualify their fit for your products and services. Best of all, they'll sell themselves on the value you offer, reducing the length of the sales process and making it easier for your sales team (something they'll certainly thank you for!).
How to get started with inbound marketing
As part of a marketing strategy built on research, knowledge and creativity, inbound marketing can help you reach your marketing and sales goals. Would you like to:
Utilise your internal expertise to enhance your most valuable sales and marketing asset – your website?
Attract more leads, nurture the best prospects and turn them into customers?
Be supported by an agency that understands your challenges, goals and pressure points and can help you with every step of implementing an inbound strategy that will deliver results?
If the questions above resonate with you, you can get in touch today to request a free, no obligation consultation session. We'll help you explore whether inbound marketing is the right approach for you.
If it is, we can help you get started right away, guiding you along every step of the way.
If it's not, we'll help you figure out why and perhaps make recommendations for other tactics that might add value.
Want to learn more about inbound first?