As professional marketers ourselves, we know it's hard to stay on top of the latest trends. But if you find you have some dead time during the day – be it commuting to work or on your morning jog – it could be the perfect opportunity to further develop your craft. How? Well, in case you haven't heard, podcasts are making a comeback. And it just so happens that there're a number of excellent marketing podcasts doing the rounds at the moment. To help filter these down, we've listed our current five favourites below (hopefully a small enough number to get you started).
As part of my favourite marketing podcast at the moment, content marketing experts Robert Rose and Joe Pulizzi provide a weekly update on the latest happenings in the worlds of marketing and publishing. The ability to tell good stories is the essence of marketing, and definitely a good skill for all marketers to have under their belt. Each 60 minute episode is equally informative and entertaining, and is a must if you want to be kept abreast of marketing trends.


It seems that every week an interesting new book on marketing and business strategy gets released. Sadly, there just isn't enough time to read all of them. That's where The Marketing Book Podcast comes in. Every week, Douglas Burdett interviews the author of a recently released marketing book (including a number of top marketing thought leaders), encouraging them to deliver all the key points from their book in under half an hour! Of course, this usually just leaves you wanting to read the book even more! But at least it gives a good summary of each book and helps you better choose how to prioritise your (or your company's) reading list. Recent podcasts have featured "The Marketing Performance Blueprint: Strategies and Technologies to Build and Measure Business Success" by Paul Roetzer, "The Art of Social Media" by Guy Kawasaki and "Everybody Writes" by Ann Handley. Spoiler alert, these books have been listed for a reason... they are all great, so go get them now!


OK, so this podcast is not just about marketing, it's about business growth in general. But it's also an excellent weekly interview with a highly successful business leader, sharing the tips, tricks and insights that have helped them to be successful. Recent interviewees have included Seth Godin, Bill Macaitis (CMO, Slack), Brandee Barker (First PR Executive, Facebook) and Zach Sims (CEO, Codecademy). One of the best (and fastest) ways to improve how you apply marketing practices in your business is to learn from the successes – and more importantly, failures – of smart and tenacious people who have already been there. For that reason alone, this podcast is worth checking out.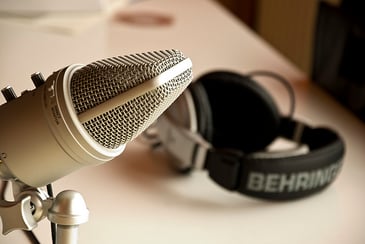 Image: Flickr/Patrick Breitenbach/My Podcast Set I/CCBY2.0

4.

ConversionCast Podcast
No matter what marketing strategies your business uses, the proof is in the results you deliver (and how you measure them). This podcast shows you how to make your company stand out amongst the competition and better engage with website visitors to boost conversion rates and ultimately, drive growth. Each episode features different marketers who have mastered various tools and tactics to enhance their success, whether it's growing email lists, signing up user trials or encouraging downloads. And the best part is, the episodes are short and sweet, so you can even fit one in during a 15 minute coffee break.


What better way to learn about marketing than from entrepreneur and general social media master Gary Vaynerchuk himself. Listeners can ask Gary questions about all things marketing, social media and entrepreneurship. What attracts us to this series is its personal feel, as Gary shares with listeners his own struggles and experiences in the field. This podcast is a digital marketer's paradise, and the episodes can also be found in an engaging video series on YouTube.
So there you have it, five top podcasts to ensure you always know what's hot and what's not when it comes to the ever-changing field of marketing. We're always on the lookout for new ideas and sources of inspiration, so we'd love it if you would share your favourite marketing or business podcast in the comments below.
And if it's specific life science marketing tips you're after, you could always subscribe to the BioStrata newsletter!