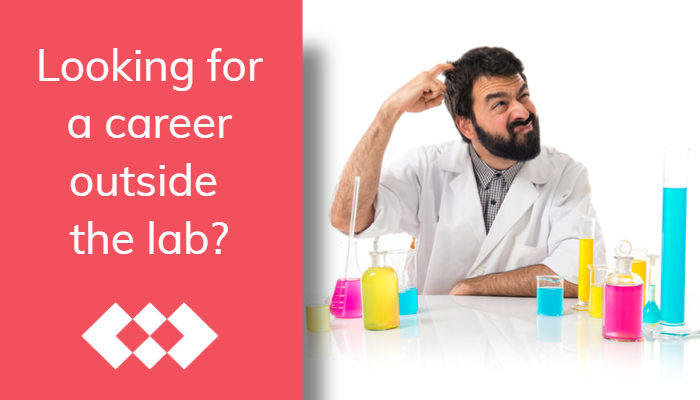 As a life science graduate, I found myself facing a huge decision when it came to my future career: stay in the lab, or foray into the commercial world. After running a number of experiments in my head, and having studied the results with care, I decided to test myself in the world of life science marketing. This was a decision I will never regret.
Perhaps you're a recent science graduate who is considering making a similar decision? In case it helps you with that process, here are four things I love about working in life science marketing.
If you're interested in finding out more about our open roles, take a look at our current opportunities.
1. You get to live and breathe science, every single day
To work for a life science marketing agency, perhaps the most important attribute you can have is a love for science!
I came from a very specific background in terms of my degree and practical research areas—focusing mainly on cancer research and molecular biology. One of the fears I had leaving the lab was that I would ultimately spend less time with my first love; science itself. But nothing could be further from the truth! In fact, I feel like I get to experience a far wider range of scientific disciplines working in life science marketing than I would have if I'd remained within my specific niche.
In addition, not only does my day comprise of getting up close and personal with multiple scientific topics, but the types of projects I work on varies a lot too. For example, only this morning I was updating the web copy for a biotech company working in the immuno-oncology space, then proofreading a blog post on the subject of carbon-carbon bond length for another client, followed by designing an eBook on the subject of schizophrenia clinical trial success for a third. It's fair to say that no two days are ever the same!
2. The science of marketing is just as fascinating as the science we are marketing!
So, I have to admit that this one took me a little by surprise. Going into this role, I knew I was going to learn a lot. I came from a pure science background, with little knowledge of marketing (and that's being very generous). What really surprised me was how interesting and in-depth the science was behind the discipline. Modern marketing is stats-, research- and results-driven, and in order to be successful, you have to always have your finger on the pulse of the latest trends, strategies and tactics.
When we speak to prospective or new clients, we use techniques and tools developed at BioStrata to diagnose their marketing need, from which we can prescribe an approach to help meet that need and deliver results. A great deal of what we do involves analysing the numbers and reacting to the data, whereas I was expecting marketing to be far more subjective at its core. I've learned so much since being in this industry, I often feel like my first year at BioStrata was a master's degree in life science marketing! In so many ways it feels like I never left the lab—I just got rid of the lab coat and automated pipette. My day still consists of running experiments and reacting on the data, but now I get to work more collaboratively (with my team and clients) and across a wider range of topics. What's more, every day I get to see the difference I am helping to make for companies and scientists around the world.
3.
You get to make a real impact on the industry
Every so often when I'm finishing an eBook for a client, writing a creative brief for an infographic or wireframing a new webpage, I remind myself that the work we do here might one day lead to that next great breakthrough or therapy that will change the lives of so many people. Life science marketing is all about connecting scientists with the technology or approach that will help them achieve their goals—and all of our clients have something special to share with the world—we just help them get their innovation into the hands of the scientists that need them.
I won't spill the beans here, but one of my client's entire approach to precision medicine is one that I really feel could change the world if widely adopted, and my work will have a direct impact on their success—that is quite a feeling to have at 15.32 on a Thursday!
4. Working in science does not mean you can't be creative
I always remember a teacher of mine telling an impressionable class of ten-year olds: "There are two types of people in this world, creative and non-creative. The non-creative types will go on to work in business or become scientists, the creative ones will be artists and [for some reason] architects". I have to admit, for a long time I thought this was the case. Working in marketing has, however, turned this notion on its head.
One of the best things about working for a life science specialist marketing agency is that there are opportunities to be creative almost every single day. Whether that's the creation of social media posts to promote that next online article or blog, building out the basic design for a new website, or outlining and creating concepts for an infographic or eBook. Although sometimes scientific disciplines often conjure up images of dryness and a lack of creative freedom, the same cannot be said for life science marketing! The rigour and accuracy of the data is still an important thing for us to demonstrate and communicate—but we get to do this by creating compelling stories and content that will grab the attention of readers around the world.
Do you fancy a career in life science marketing?
A career in life science marketing is not only fast-paced and challenging, but extremely rewarding and satisfying. You have to be prepared to get stuck in, work hard and think fast. Do you have a scientific background, are keen to escape the lab and think that you'd suit a career in life science marketing? Our team currently has a number of roles available, so visit our careers page to find out more!