In life science marketing, attracting the attention of your prospects isn't always as easy as we'd like. With the vast amount of content available at this point, it's now becoming harder than ever to cut through the clutter. This is especially true given the growing number of free content resources that have been published by life science companies over the last few years, such as eBooks and whitepapers. So, what can life science marketers do to make people sit up and pay attention?
One approach is to publish truly unique content that stands apart from what your competitors are creating. That probably sounds a bit obvious, but the explosion in life science content marketing over the last few years is making this harder than ever to achieve. What's more, this will only get worse over time, as more companies look to attract the interest of their prospects through publishing informative, educational and inspirational content.
However, if you look closely, there are probably significant gaps in the content landscape within your niche that you can look to exploit. In fact, some gaps are so glaring that they can be found in many industries, as highlighted in Marcus Sheridan's recent book, 'They Ask, You Answer'. Here, Marcus describes an approach that involves earning your prospects' trust by honestly answering five key questions that can underpin their purchasing decisions.
As your prospects frequently search online to answer these questions, it is crucial to generate content that truly addresses them (including using the relevant keywords) to ensure you are at the top of their search results. Not only will this support your SEO efforts and boost your website traffic, it will ultimately help you to attract more leads that you can then nurture and convert into customers.
Below we look at the five key questions that your website needs to answer in order to help your customers select the best solution for their needs. We've also developed a handy template to help you brainstorm ideas for answering these questions for your products and services.
Question 1: How much does X cost?
Knowing the cost of a product is one of the most essential aspects of any purchasing decision. But many companies fail to give pricing information on their websites, mainly because they are often reluctant to reveal what they charge to their competitors, and/or they think high prices and price variability will scare potential customers away. However, a lack of pricing information is just as likely to lose potential prospects to competitors in many cases. And if you're worried about your competitors finding out what you charge, there are already several approaches they could take to source this information should they really want to find it.
What's more, if you start talking about your prices, it's likely you'll gain some rich rewards. This includes increased traffic from search engines, as looking for information on pricing is one of the most common themes underpinning online searches. For example, about eight in ten Americans say it is important to be able to compare prices from different sellers, and as a result turn to search engines like Google.
By talking about pricing, your prospects may also love your honesty, making you stand out from your more tight-lipped competitors. This might help boost lead generation and sales. It's also a great way to ensure your product is within your prospect's budget, because if they're not a good fit as a buyer, then you'll both be wasting time by entering into a sales conversation!
Still not convinced? Well, we understand that you may be feeling a little sensitive about answering this question, and we don't blame you (it makes us feel the same). But there are ways to provide your prospects with valuable insights on price without giving away too much. For example, instead of breaking down your costs in detail, you could just provide a general price range for different products and services. Your prospects can then at least get a ballpark figure. Even if you are vague, you are likely to provide more information than many of your competitors, meaning that customers are more likely to find, trust and contact you.
You can also factor in your positioning in the market. If you are aggressively pricing your products and services compared to others in your sector, you can highlight how you deliver value for much less than most companies charge. At the same time, if you charge a premium (e.g. for specific, hard-to-find expertise or access to a unique technology), you can position yourself effectively by highlighting the benefits of choosing the best product/service in the market to secure the highest possible value from a purchase.
Action item: How can you start talking sensitively about costs on your website?
Question 2: What's the best X on the market?
As well as pricing, consumers commonly search for the best brands, services and products available (or, at the very least, the best ones that they can afford within their budget). So, talking about this on your website could attract the interest of your prospects, as well as position yourself as an expert within your industry (especially if it's done as honestly and subjectively as possible). While this will inherently build trust, it could also be a chance to cast a spotlight on one of your own products (for example, if you have won a 'best product' award or recently launched an innovative product) to promote your company further.
For example, a microscope manufacturer could post articles on topics such as, "what are the best microscopes on the market for application A?", "what were the 10 best product innovations in microscopy last year?" or "what is the best microscope for solving challenge B?". These will appear high up in Google searches for the keywords 'best microscope', attracting relevant prospects to your website, as well as creating an opportunity to turn them into leads and customers.
Action item: Do you talk about the "best solutions" to different challenges on your website?
Question 3: Have others reviewed X (and what did they say)?
Another key consumer behaviour is to search for online reviews before they buy, to make sure they're making the right purchasing decision. Recent statistics show that 90% of consumers search for online reviews before even visiting a business' store or website. With a vast range of such information available online, it's usually easy for consumers to find reviews of your company, products and services.
So, producing content that focuses on case studies, testimonials and reviews may just be what you need to win over potential customers. For example, you could review the most popular products in your portfolio, or even produce a buying guide based on consumer feedback. At the same time, you can bring attention to excellent reviews of your own products/services. You could also include the word 'review' in the title and body copy of all your pages that feature customer testimonials, to ensure relevant search traffic is driven to these pages.
Action item: How can you start talking about product and service reviews on your website?
Question 4: How does X compare with Y?
Your prospects will often conduct web research to make comparisons before they buy. This can range from comparing different products and brands, to understanding how one type of technology differs from another. This information can be surprisingly hard to come by—but that's where you come in! Offering content that makes it easy for your prospects to make comparisons will smooth over the bumps along their buying journey, as well as boost the amount of attention you receive.
For instance, a microscope manufacturer specializing in transmission electron microscopes (TEMs) could write an article on the differences between TEMs and other types of electron microscopes, such as scanning electron microscopes. Or they could write about the pros and cons of using electron versus optical (light) microscopes.
Highlighting comparisons between your own products/services and those of others could also help you highlight your own USPs, as well as ensure your prospects are getting useful and accurate information about what you offer. This will enable them to get reliable information about whether you're a good or bad fit for their needs, saving you both time in the long run. However, it's important to remember to be careful when comparing yourself directly with named competitors and their products, to avoid getting involved in potentially serious legal issues.
If you want to start talking about comparisons on your website, a helpful exercise is to note any 'versus' or comparison questions your prospects are asking related to your niche market sector. Try to answer these questions as honestly and accurately as you can.
Action item: Do you talk about relevant comparisons on your website?
Question 5: How can I overcome problem Z? What problems are associated with using product X?
Many of your prospects will be trying to minimise risk when making a considered purchase, including trying to uncover what factors to look out for when considering possible suppliers and products. With a wealth of online facts at the consumer's fingertips, this is easier than ever before, with customers increasingly performing their own research on potential problems before buying.
So, talking openly about these potential challenges and, most importantly, how to overcome them is another key type of content that will get you noticed. This could involve writing about how to resolve the general problems that your industry or sector faces, while at the same time providing a great opportunity to highlight any solutions that you offer (and possibly that your competitors don't).
For example, a microscope manufacturer could write about the common challenges of working with microscopes, such as the high costs of equipment failure, or the time wasted using systems that are difficult to set up. They could then suggest effective solutions to these problems (especially those that they offer), such as an extended product warranty, or a trusted, expert customer support service.
It also provides an opportunity to be upfront about what problems/objectives your products and services are well-suited to help with (and those they are not). This will help you attract the right types of prospects (again, saving both parties time and energy in the long run if there is likely to be a problem with fit during the sales process).
Action item: How can you start talking about common problems and challenges on your site?
How can life science companies get started with "they ask, you answer"?
Putting the 'they ask, you answer' method into practice requires an open mind, because it could contradict much of the business and consumer education you know. But taking an innovative approach is very likely to make you stand out from the crowd and drive lead generation and sales—particularly in this digital age of cluttered content.
To get started, download our Content Matrix Template, which will help you to map out how you can answer the 'big five' questions that consumers frequently search for online. We also recommend reading Marcus Sheridan's book, "They Ask, You Answer" for deeper insights into the approach.
In the template, we suggest example content as a guide to help you answer these different questions from the perspective of your own niche market. Applying this kind of template to your digital content strategy could help you attract and connect with your prospects in a more engaging and meaningful way, enabling you to boost SEO and site traffic, generate leads, and increase your sales revenue.
Below is an example of how we've used the matrix to map out a top-level plan for a microscope manufacturer. These ideas could be used to develop blog posts, eBooks, whitepapers, webinars, infographics and more!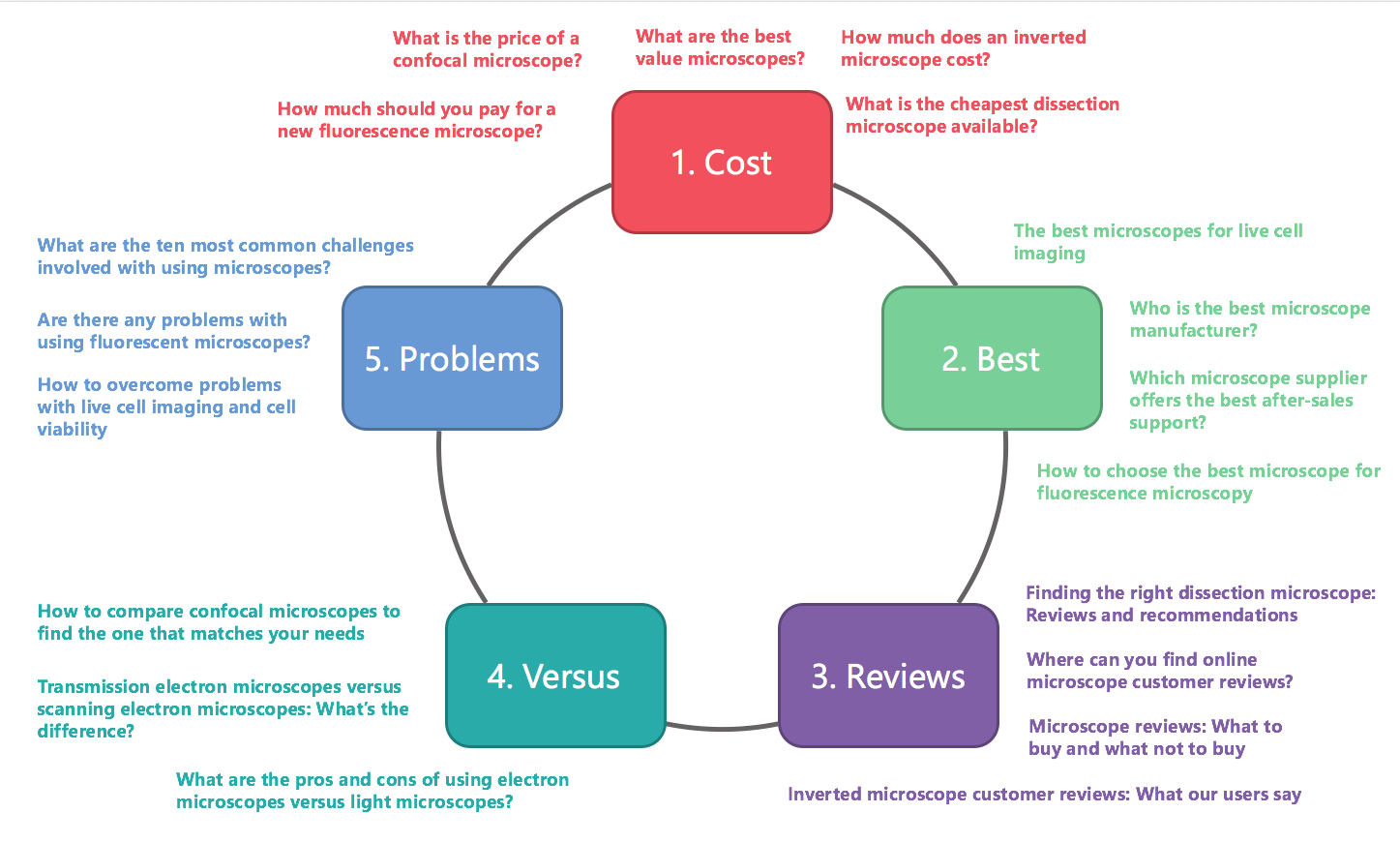 To get started on your own plan, download our free Content Matrix Template today.