The life science sector is perfectly suited to life science inbound marketing. Scientific buyers can be cynical about advertising, resistant to overt sales messages and keen to avoid cold calls from salespeople. Instead, they prefer to research their own solutions online and base their purchase decisions on data, information and recommendations/examples from their peers. In addition, sales cycles in this sector can often be long and complex, with buyers carefully weighing their options before making a carefully considered purchase. These are all hallmarks of a market where inbound marketing and sales can be effectively used to drive an increase in web visitors, leads, customers and revenue.
It is therefore surprising that so few life science companies are using inbound marketing to achieve their commercial goals. As such, this gap also presents a massive opportunity for those companies willing to innovate in an effort to attract, convert, close and delight more customers.
Aptuit is one such innovator in the life science sector, which chose to partner with BioStrata in 2016 to plan and execute a new inbound strategy to achieve its commercial goals. As we discuss below, we worked with Aptuit to increase website visits by over 1600% and leads by over 750% in just 6 months. The leads generated by the programme went on to yield well over $3million in sales revenue during this period, conservatively representing a return of investment of over $50 generated for every $1 spent on the programme.

An overview of the situation
The opportunity
Aptuit is a contract research organisation (CRO) that provides a range of services to pharmaceutical and biotech companies. Although a niche market area, the CRO services sector is predicted to be worth $45 billion in 2017, growing to nearly $60 billion by 2020. Aptuit was keen to take advantage of this growing market by attracting and closing more customers, but its traditional approach to marketing and lack of market awareness meant that it was potentially missing out on millions of dollars of revenue.
The challenges
Aptuit has a number of target audience personas, but most share a very technical background that includes a PhD in biology or chemistry. The primary need of these prospects is to increase the quality, speed, efficiency and overall success of their research or manufacturing processes, while reducing the risk of programme failure. Aptuit helps them to achieve these outcomes by providing specialist expertise and additional resource across many parts of the drug discovery, development and manufacturing process. The solutions that Aptuit provides are highly technical, complex and customised to the needs of each customer, with average deal sizes often over $1million.
As such, the challenge of selling to this audience mirrors the life science sector in general, in that Aptuit's prospects are averse to outbound marketing and sales techniques and buy through a carefully considered process that is built upon supportive information, technical facts and data. It is also important to build trust with these prospects over the length of their buying journey, as their personal and company futures will often depend upon the success of the collaborative programmes that they undertake with the Aptuit team.
In a further twist to the story, Aptuit originally started life as a specialist in pharmaceutical packaging. Although the company had now evolved far beyond this, at the start of the inbound programme, many in the pharma industry still saw Aptuit as a packaging company and not as the CRO it had become. As such, there was a need to rapidly and effectively communicate this new positioning to the marketplace in a way that would accentuate the technical expertise that has been added to the team over the last few years.
The solution
Until early 2016, Aptuit had relied upon traditional outbound marketing and sales activities to raise awareness and change market perceptions, with limited success. These tactics included attending trade shows, print advertising, limited lead generation through cold email blasts and a heavy reliance on bottom-of-the-funnel literature like sales brochures. Aptuit's website was also in need of an overhaul, as it still focussed too heavily on the company's packaging services and was not built to generate highly-qualified leads (in fact, the main conversion point on the site was a general 'contact us' page).
In an effort to further increase awareness, generate more leads and help drive growth, the Aptuit leadership team brought in a new marketing team with experience in digital and inbound marketing to change how the company promoted and marketed its services (and build a new website). BioStrata was engaged just after the new marketing team came onboard to provide strategic input and executional support to the programme.
The goals of the inbound pilot programme
Given the situation, Aptuit's main goals were to leverage inbound marketing to:
Raise awareness of

Aptuit's

new contract research services and change the perception of Aptuit as 'only a packaging company'

Drive more visitors to the Aptuit website

Generate new sales leads for

Aptuit's

business development team to follow up with

Improve the quality of these leads by attracting qualified web traffic, specifically interested in

Aptuit's

wider contract research offering

Convert these leads into customers and generate sales revenue

Prove that inbound marketing could generate tangible results for Aptuit
The BioStrata team was brought in to help achieve these goals. As Jim Regan, Marketing Director at Aptuit put it, "We needed an agency with a proven understanding of the inbound marketing process and the HubSpot software platform, as well as the scientific and technical writing ability to produce compelling content that would appeal to our target customers. BioStrata had the right blend of PhD-level science experience and inbound marketing know-how. The b2b inbound marketing agency we selected would also need to work closely with our small marketing team, so that we could dovetail our efforts to produce tangible results, as quickly and efficiently as possible. It was very clear from the first meeting with the BioStrata account team that we were all on the same page about how inbound could help drive Aptuit's growth and that they would work with us as a true partner on the programme. For us, it wasn't just about the work, we wanted to be sure that we would enjoy collaborating with them and that they would be just as invested in making Aptuit successful as we were, something I'm glad to say has proven we made a good choice when we opted to work with BioStrata."
Planning and executing the campaign
In order to achieve Aptuit's goals, we needed to work with the Aptuit team to:
Prioritise which market segment would allow us to generate the best possible return on investment and demonstrate the value of inbound marketing

Develop an inbound marketing strategy focussed around a key buyer persona (aligned against this priority target market)

Produce high quality content targeting this buyer persona, mapped specifically to the 'awareness stage' of their buying journey

Attract this persona to the Aptuit website through keyword-optimised blog posts, an effective social media strategy and email marketing to the Aptuit contact database

Convert these visitors into marketing qualified leads through high value content offers, driven by effective calls-to-action and optimised landing pages

Demonstrate

Aptuit's

knowledge and expertise across the drug discovery and development process and position the company's experts as thought leaders in these areas via all the content produced as part of the campaign
Identifying the target audience and developing the inbound marketing strategy
For BioStrata, all life science inbound marketing programmes start with a strategic phase. During this phase, we work with our clients to:
Develop buyer personas to target during the campaign

Brainstorm content ideas based on these buyer personas

Create an inbound marketing plan, outlining all the key tactical deliverables of the programme

Establish KPIs for the programme
For Aptuit, this strategic phase involved a two-day, collaborative workshop at the company's main facility in Verona, Italy, involving the account team at BioStrata and appropriate customer-facing members of the Aptuit team (including marketing, sales and service delivery). During this workshop, it was clear that Aptuit had identified a major growth opportunity around promoting its Drug Discovery Services through an inbound approach.
At the workshop, our combined teams worked together to develop buyer personas for the key purchasers (and influencers) that we would need to target in order to generate interest in Aptuit's Drug Discovery Services. We then looked for synergies between the goals, challenges and pain points of these personas, so that we could devise a content strategy that would target as many of them as possible, while still remaining highly specific (and therefore likely to resonate and attract their interest). The workshop also provided a chance to outline the inbound approach to the wider team and ensure that other senior figures at Aptuit were bought into the campaign.
As well as leading the workshop to develop the strategic buyer personas and the content plan for the campaign, BioStrata also produced all the content underpinning the programme, including an eBook, blog posts, social media posts, landing pages and promotional emailers.
Creating the high-quality content
As the aim of the programme was primarily to raise awareness and drive as many new leads as possible, we agreed on producing a top-of-the-funnel eBook. This was designed to inform and educate the market on the best ways to optimise every step of their drug discovery process to save money, time and resources, while also maximising the chances of discovering an interesting drug candidate (this is a major challenge in the pharmaceutical industry, where failed drug discovery programmes cost companies billions of dollars a year).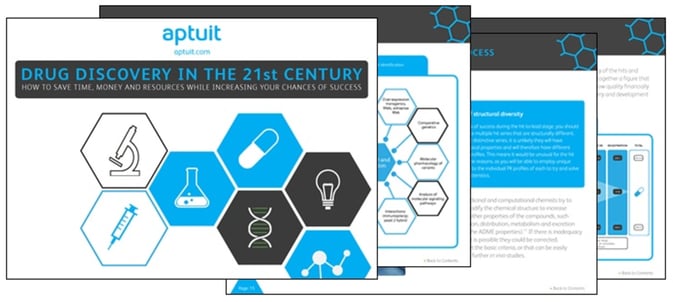 Promoting the content to drive website visitors and generate leads
The eBook formed the foundation of the campaign and was housed behind a landing page and contact form (which was kept as simple as possible in order to generate the highest number of top-of-the-funnel leads). As this was an initial pilot programme to demonstrate the value of systemised inbound through an awareness-stage eBook, the aim was for the sales team to further qualify and nurture all the new leads directly (while also using intel tracked by HubSpot to support the process, e.g. company IP address, the web pages that each lead had visited on the Aptuit site, etc.).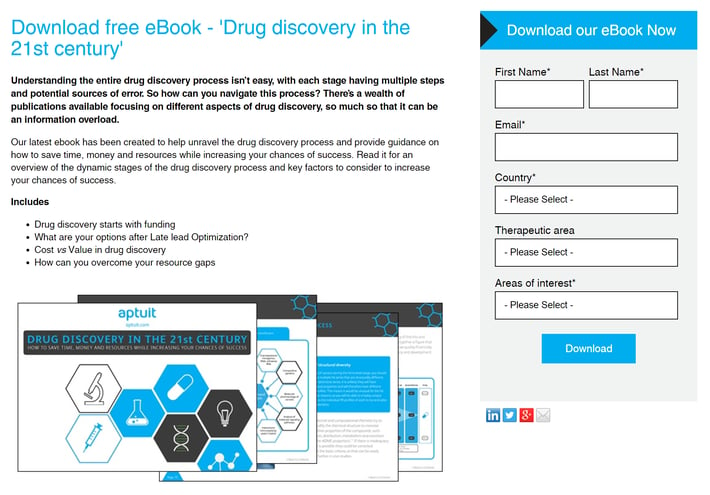 The eBook was deliberately structured in eight connected but discrete chapters, each around 500-1000 words in length. These chapters could easily be copy-edited with minimal time investment to produce eight blog posts to promote the overall eBook (with each blog post based on a single chapter of the eBook). The blog posts were promoted via a series of social media posts and emailers to the Aptuit customer database. The advantages of this strategy were that:
It forms a content web around the same topic, with

a number of

blog posts all optimised around the same keyword phrases to increase

Aptuit's

search engine rankings

It provides us with many unique opportunities to promote the same eBook via social and email without becoming repetitive and

spammy

It is a time- and cost-effective way to produce as much content as possible from a single content idea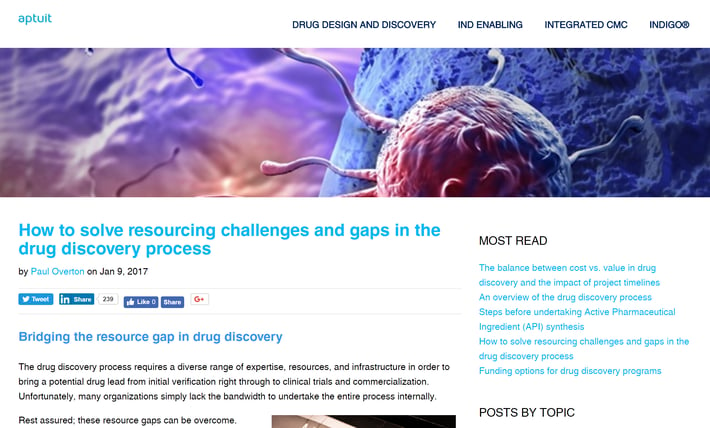 The blog posts (as well as the associated social media posts and emailers) were published over an eight-week period. As we were targeting a B2B pharma audience, we primarily leveraged LinkedIn (as previous research by BioStrata had shown that this platform is an effective way to target this audience). However, as it was relatively easy and cost-effective to repurpose the LinkedIn posts for use on Twitter, we also promoted the content on this platform.
Lastly, as a large percentage of visitors to a website first land on a company's homepage, we also used Aptuit's homepage as an opportunity to promote the eBook as part of the main slider (a tactic that we have previously shown can be an effective way of boosting website conversion rate and driving more leads via the campaign).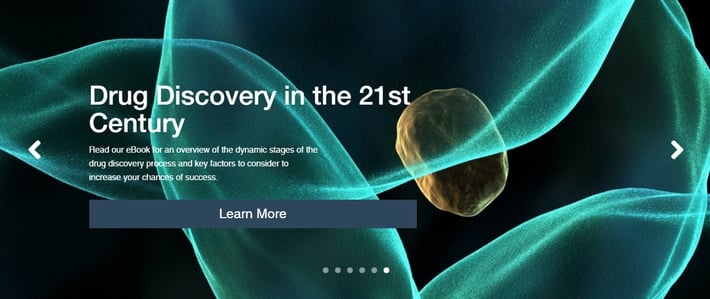 The results of the campaign
The pilot inbound campaign went live in early October 2016 and enabled us to build awareness, position Aptuit as thought leaders in a specialist field, attract more website visitors and generate more leads. Specifically, within the first 6 months, the campaign helped deliver:
49,028 website visits (compared to 2905 in the 6 months before, an increase of 1600%)
804 new leads (compared to 94 in the previous 6 months, an increase of 750%)
Over $3m of additional sales revenue, generated directly from the new leads produced during the campaign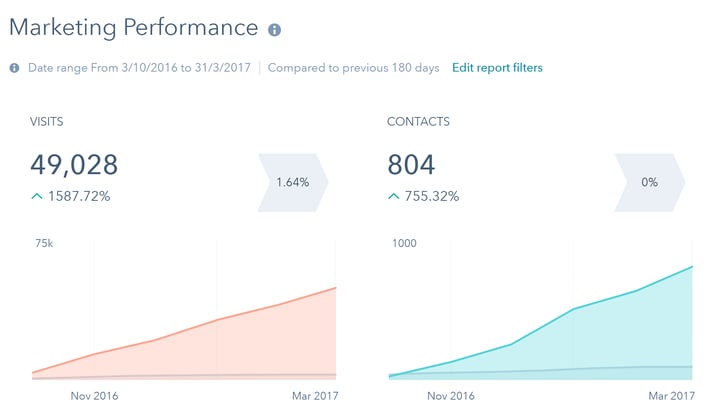 Other noteworthy successes included:
Much of the increase in traffic to the Aptuit website was due to a large influx of organic traffic (green in the graph below), as would be expected by undertaking keyword-driven, inbound marketing tactics

There was also a boost in social media traffic (light blue in the graph), driven by the social media programme

Traffic from the email marketing programme (yellow in the graph), also contributed to the success of the campaign

The campaign landing page had a conversion rate of 61%, which is considerately above industry average, indicating that our content offer was well-tuned to the interests of our buyer personas and that our landing page was well-optimised to encourage conversions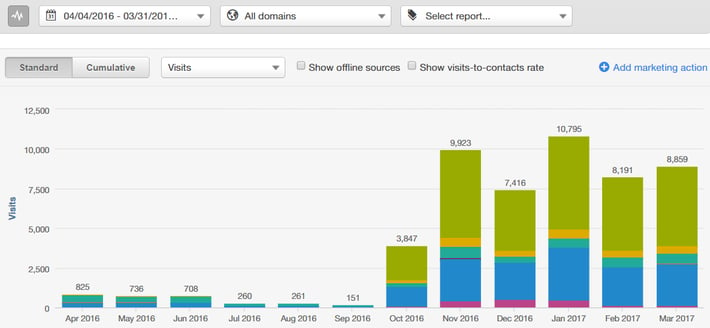 The impact of the programme (a 50:1 return on investment)
The inbound programme generated over $50 in sales revenue for every $1 invested (and this is a conservative estimate). This return on investment has justified Aptuit's decision to move from an outbound to inbound marketing strategy. As Jim puts it, "We were confident that moving to inbound would help drive our success, but using HubSpot to track everything helps us justify to ourselves, and the rest of the Aptuit team, that we can generate significant results using the methodology. The inbound, scientific and content creation expertise of BioStrata was an essential pillar underpinning the success of the programme and we're excited about scaling the inbound programme up with their team over the next 12 months to generate even better results, across a number of other important Aptuit business units."
Get these results for your business
If you work in the life science industry and are concerned that your old marketing and sales tactics are just not performing like they used to, then inbound marketing might be just what you need. To find out how it might help you get ahead of your competition, book a free, 60-minute consultation with an expert from our team.