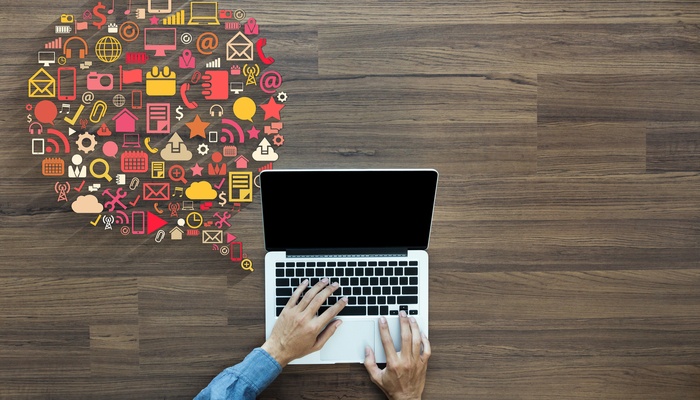 Here at BioStrata, we live and breathe marketing. As such, we are always keeping abreast of the latest trends and developments in the ever-evolving marketing world. As any modern marketeer would probably agree, in this dynamic industry, there is never a dull moment and it can sometimes be tricky to keep on top of what's hot (and what's not).
But don't worry, that's why we're here. We've scoured the web over the past month to bring you a digest of the top five marketing blogs from April. Read on to find out what everyone's talking about this month.
HubSpot launches AMP plugin (what it is and why you need to know)
This month, HubSpot added an Accelerated Mobile Pages (AMP) plugin to its platform. For those unfamiliar with AMP, it's a new approach to web page design, structure and indexing, launched by Google last year to improve the experience of mobile web users. Effectively, AMP-configured pages (usually blog posts) are stripped down versions of your existing web pages that have been optimised to load as quickly as possible on mobile devices. Not only does this improve user experience (as pages load much faster and are easier to read), it also increases the chances of your page being shown at the top of the search results page (see below for an example).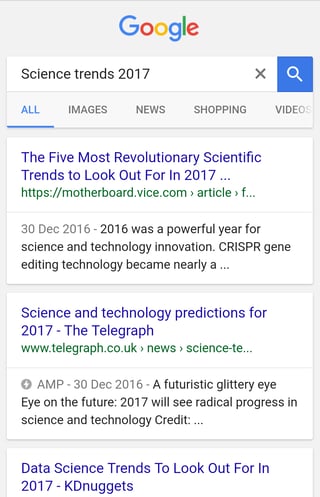 Pages using the AMP format rank higher on Google
So why is this important for you and what does it have to do with HubSpot? Well, first and foremost, anyone producing and publishing content on the web should always be thinking with search engine optimisation (SEO) in mind. In that respect, life science companies are no different; creating AMP-optimised pages give you a better chance of ranking highly on Google and driving more search traffic to your website.
Ideally, converting all of your relevant web pages (usually your blog posts) into the AMP format would be as quick and easy as possible. Well, that's where HubSpot's new plugin comes in, as it allows this to be done with the click of a button. The plugin only works for HubSpot customers hosting their blog on the company's platform, but fear not, as there are a number of other plugins out there for content management systems like WordPress and Drupal that carry out a similar function.
So should you enable AMP on your blog posts? A number of small studies have shown that enabling AMP increases web traffic from mobile visitors. As it is simple to do, you could make the argument that there is very little reason not to get started with AMP. That being said, if the rest of your website is not yet optimised for mobile, you may have more pressing projects to attend to...
And one other quick word of warning; as AMP-enabled pages are stripped down versions of the original page, you should check the settings of your plugin carefully, so that you can be sure your AMP-optimised pages will match the look and feel of the rest of your website.


Getting heard – how to make your life science company blog go viral
Ensuring your website has an active blog that is regularly posting high-quality content can be a powerful tool for attracting website visitors, introducing them to your offering and showcasing your expertise. Often though, it can feel like you're throwing your carefully crafted content into an ocean, particularly now that this content-driven approach has become so popular. So what steps can you take to increase the reach of your blog? And how can you ensure that the right people are being made aware of you and your products and services? This excellent blog post from the team at Oktopost outlines some useful hacks for helping your content prove popular with your audience (with the hope that they will share it with their networks to boost your reach).
For example, they provide tips that you can use to analyse the best keywords for your respective area/industry. Another trick they suggest is to look at the most popular blog posts published by your competitors, analysing which keywords drove the most traffic using tools like SEMrush, Moz or Spyfu, as well as keeping in mind the most popular topics to drive your own editorial strategy. Lastly, keep an eye on any relevant online forums and LinkedIn discussion boards, as this will allow you to assess the current mood and interest of the market. These simple (and very often automated) approaches might be that push that your blog needs to take it from being relatively unknown to well-read and popular.


What is the ideal length for blog and social media posts?
As a modern-day marketer working in the life science sector, you most likely regularly write blog posts and share your content using a range of social media channels such as Twitter, LinkedIn or Facebook. But have you found yourself wondering just how many characters your social posts should be in order to most effectively capture the interest of your target audience? For example, while many social media channels limit the number of characters or words you can use, maxing out the character limit in an effort to include as much detail as possible is not necessarily the best way to get your audience's attention and attract clicks.
This handy guide from HubSpot has all the character limits in a single place and provides useful tips on the ideal length of social media posts. It also provides data-driven guidance on the length your blog posts should be if you want to ensure that you capture (and keep) the attention of your readers (spoiler alert: the optimal blog length is probably much longer than you might guess!). The guide is on our Spring reading list – why not add it to yours too?
Should you gate life science content?
It's an age-old question; should you gate your high-value content or not? And the answer very much depends on what you are trying to achieve. For those unfamiliar with the term, gating is when you place your content (e.g. an ebook, whitepaper, webinar etc.) behind a lead capture form, allowing you to collect information on a lead while providing them with valuable content. The goals of your marketing efforts will dictate how much of your content you will gate and when. This great blog post from Square 2 Marketing summarises why we gate content, when to gate content in relation to your sales funnel, and the benefits of gating versus not gating (from both a marketer's and buyer's perspective). It is all based around the value of the content and the stage of the funnel you are targeting. If you are simply trying to generate click-through to your website and increase your SEO, ungating is an option to drive traffic to your website. If you are trying to generate more marketing- or sales-qualified leads, capturing key information will be a priority, and gating is what you will need to do. Still, gating is not binary – you can adopt a more hybrid approach where some content is gated and other content is not. By balancing gated and non-gated content on your website, you can provide the best of both worlds to your buyers (and for your marketing efforts).


Be inspired
–

tactics used by the most innovative companies

Fast Company recently published their annual list of the year's most innovative companies, and as Joe Pulizzi from "This Old Marketing" podcast mentioned, this list is a 'must read' for those involved in content marketing and strategy. This blog by The Content Marketing Institute highlights five companies from the list who have used fundamental content marketing practices to truly innovate and produce great results. While the approaches used are those we likely adopt every day as marketers, it's how they've applied them to their businesses which provides some serious food for thought. Although the blog highlights approaches adopted by B2C companies, when it comes to innovative and out-of-the-box ideas that will deliver results, as life science marketers, we can always step outside the familiarities of B2B marketing and learn a trick or two from our B2C colleagues.

For example, Casper, a start-up mattress company, has established itself as the go-to resource for one specific subject – sleep. As self-coined 'snooze experts', Casper adopted a content marketing approach to share engaging and interesting content about a range of sleep-related topics, rapidly positioning themselves as a trustworthy source of knowledge for a subject that clearly wasn't being talked about enough. Interestingly though, Casper actually developed an independent, unbranded editorial blog, Van Winkle's. Fueled by compelling content, the blog talks purely about sleep and its role in our lives, steering clear of promotional content. An interesting and increasingly common approach, but what about the results? Well, it turns out that this content marketing strategy, in combination with a number of other tactics, helped the company double its revenue to $200 million in one year – now that's impressive!
Share your thoughts and get more great insights
If you loved this summary and want more great content delivered straight to your inbox every month, then don't forget to subscribe to our monthly newsletter.