So what happened this month in the world of marketing? What great tips or stories were shared? And how does all of this pertain to those working in life science marketing and sales? Read on to find out about the top five marketing blogs we felt were the most interesting this month.
How to produce persuasive life science content
Statistics have their place, but when you're looking to be persuasive it's the story that's often more impactful than simply a collection of figures. Most people make decisions, at least partially, based on their emotions, which is why storytelling is such an effective marketing tool. Because it's engaging, it's effective.
However, that's not to say that statistics aren't important, especially within our scientific sphere, where data is the central component of our audience's working life. The most compelling content is often driven by a combination of storytelling and data – something which can activate the emotional centres as well as the logic centres within the brain. We found this blog by the MOZ team sums up nicely the need for a balance of emotive and data driven content within a story.
Facebook drops support for the BlackBerry platform
With more and more software giants dropping support for the RIM OS you have to wonder what the future holds for BlackBerry, especially when developers are citing "phone capabilities" as being the key reason why they are no longer interested in the platform.
BlackBerry dominated the corporate market for many years and this is still clearly a target they pursue, so social media platforms turning away will be disappointing but not overly catastrophic. Android devices stepped in to fill the void left behind by BlackBerry in the corporate space and it seems like BlackBerry has had its day.
Facebook has also stated on numerous occasions that 99.5% of its users arrive from Apple, Android or Windows devices (which doesn't give a huge market share for BlackBerry and some other small time players in the OS space) so you do have to ask yourself, what is the future of BlackBerry now that Facebook (and others) are choosing to no longer support the platform?
Better advertising: The importance of measuring conversion rate (not just click rate)
Marcus Andrews over at HubSpot is passionate about improving the effectiveness of advertising tactics. This month, he shared one tip that he suggested "would change how you look at advertising forever"! Put simply, if you use digital lead generation tactics such as email marketing, banner ads, search ads etc., then you need to be effectively tracking and measuring conversion rate across your marketing and sales process, not just click-through rates on the ads themselves. Why? Because the tactics that drive the most clicks, don't always generate the most leads, and the tactics that generate the most leads, don't always effectively produce the most customers (see the figure below). It's all relative and it's essential to know which tactics drive real ROI (i.e. sales), so that you can do more of what is working (and less of what isn't).
Of course, to do this effectively, you need to put systems in place to be able to monitor customers from clicking on your ad through to the eventual sale (top tip, contact us if you'd like to learn how to do this). Life science companies that take the time to build this type of analysis into their marketing and sales process are not just going to get better ROI from their efforts, the effectiveness of their approach will even act as a competitive differentiator in the marketplace.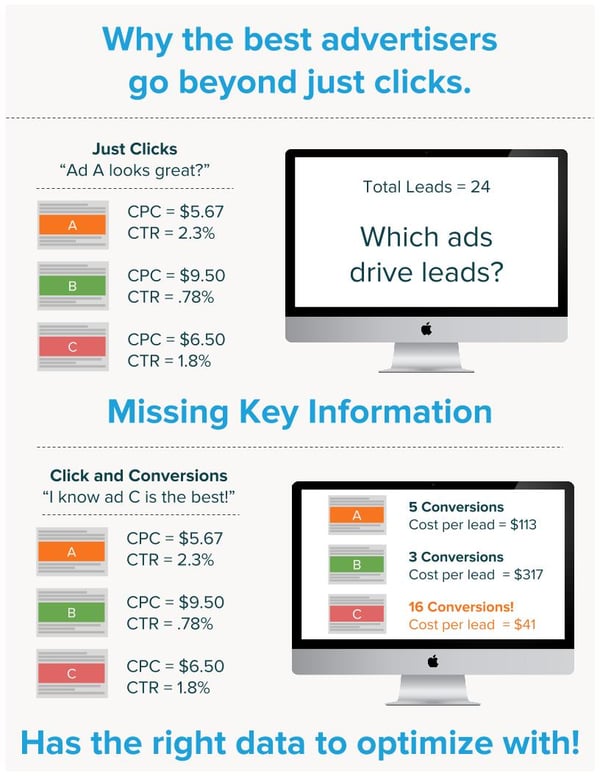 Image source: HubSpot
Need to better nurture your leads? Give these 7 tactics a try...
Sadly, life science marketing often tends to follow rather than lead the way in adopting the latest marketing techniques (although here at BioStrata we are passionate about changing that!). That being said, life science marketers are quickly realising that as scientists love to discover, learn and improve, inbound marketing through compelling content is a perfect approach in our sector. With more and more companies turning towards inbound marketing and generating more leads, it is becoming increasingly important to set in place an effective lead nurturing strategy to convert those leads into customers.
This blog by internet marketing experts Hubspot clearly outlines some great tactics to ensure you get the most from your inbound marketing – from developing targeted content and utilizing multiple channels to timely follow-ups and lead scoring based on content and engagement. Even if you aren't currently running an inbound marketing campaign it is worth reading to get some great ideas on how you can improve your lead to customer conversion rate. Meanwhile, if you'd like to learn more about how inbound marketing can help you raise awareness, attract more leads and nurture more leads into customers, get in touch with our team and we'll talk you through how inbound marketing could work for you.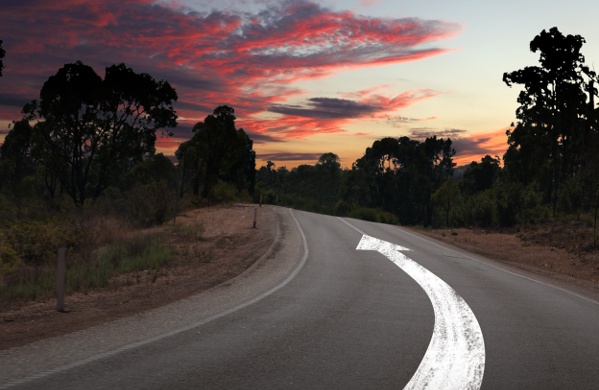 Image source: Shutterstock
What's the real difference between product marketing and content marketing?
Taking the leap from product marketing to content marketing can seem a little daunting and it's often one not every member of the marketing and sales teams will necessarily get behind. So what's the point of content marketing and how is it really different from product marketing? The answer is simple, education, education, education. Michele Linn's recent blog post over at The Content Marketing Institute really drives home the message that, when done well, content marketing helps create better customers and establish long-term relationships in a way that product marketing can't.
So yes, it's true, educating the audience without pitching a product can help grow your business. When you think about it, this makes sense: talking about features and functions only addresses pain points for those who know what and when they want to buy. What about those who know they have an issue but can't articulate the problem, let alone the solution? Well, that's where a well-considered content strategy can help you capture more leads and create a reliable, productive system for nurturing them along the journey to becoming a customer.


Share your thoughts and get more great insights
Well, that's it for our favourite marketing blogs this month, but we'd also love to hear from you! What caught your eye in the worlds of science and marketing this month? Do share your thoughts in the comments below.
Meanwhile, if you loved this summary and want more great content delivered straight to your inbox every month, then don't forget to subscribe to our monthly newsletter.