It's an age old discussion – how do you align your life science sales and marketing teams to improve performance? How important is it really and what's the best way to encourage collaboration? Well, HubSpot's latest "State of Inbound" report tackles the subject head-on, including compelling data from a survey of nearly 4,000 marketers on why and how to connect the two teams.
The state of inbound marketing in 2015
Every year, HubSpot surveys thousands of marketers and salespeople, gathering their thoughts and feedback on their pressing priorities, challenges and opportunities. The majority of the respondents work for B2B companies (and, for the record, only one-third have any sort of affiliation with HubSpot e.g. customer).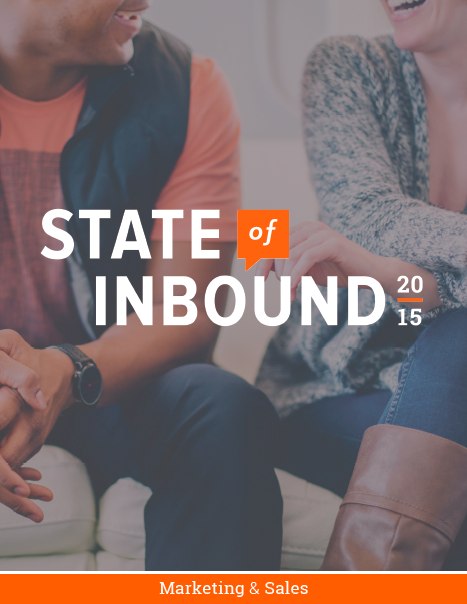 In case you aren't on the 'Inbound Marketing' wagon just yet, the term refers to a methodology that involves creating valuable, consumer-focused content that visitors simply can't help but want to read, share and engage with. This informative content is a tool to attract prospects to your business (usually via your website) and nurture them until they convert into customers.
What makes this year's report especially interesting is the fact that it could almost be entitled "The State of Marketing", with three out of four marketers across the globe adopting the inbound approach. These figures show that life science inbound marketing is no longer a new concept, and those that haven't yet adopted it are still somewhat familiar with the methodology. What's more, companies that have 'gone inbound' are achieving significant results, as can be seen by the sheer number and diversity of case studies on the HubSpot website.
Key takeaway: If you're not exploring how inbound can help you reach your marketing and sales goals, it's probably time to take a look at the inbound approach in more detail.
Companies with SLAs between sales and marketing deliver higher ROI
We've all heard about the importance of teamwork in company success and when the sales and marketing teams work together, they can do wonders. At the end of the day, marketing can deliver thousands of qualified leads, but if the sales team aren't effectively set up and resourced to close them then the net result is still poor sale figures (which is what we are all really measured on when it comes to the crunch). This misalignment can happen for a number of reasons, but two key factors are:
A disconnect between the data that the marketing team collect about prospects and the data that's actually passed onto the sales team
A change in experience for the customer as they move from engaging with marketing materials to direct follow up by the sales team (this usually includes a shift in approach between the nurturing, value-driven tactics marketing are employing and the product-driven tactics many sales teams tend to use)
What's the key message here? It's all too easy for customers to get lost in the transition between marketing and sales (and it's not necessarily anyone's fault, there are just a number of pitfalls that need to be managed). The key to overcoming this is to have both teams get together and devise a system that will help them both achieve their goals. Better still, these goals should be aligned so that everyone is working towards the same thing. Each team must also be accountable to the other as part of a Service Level Agreement (SLA), that defines all these elements in writing. SLAs can be a very useful tool for getting everyone on the same page. To help you get started, here's a great blog post from the HubSpot team on how to set up an SLA between your marketing and sales teams.
We know what you're thinking, "this sounds great in theory, but does it work?" Well, of the 4,000 marketers polled to produce the report, 47% showed improved ROI after developing an SLA with their sales colleagues (compared to 35% with no SLA in place). Combined with the likely overall improvement in relations and effectiveness between the two teams, it's certainly worth considering an SLA between the two for your company.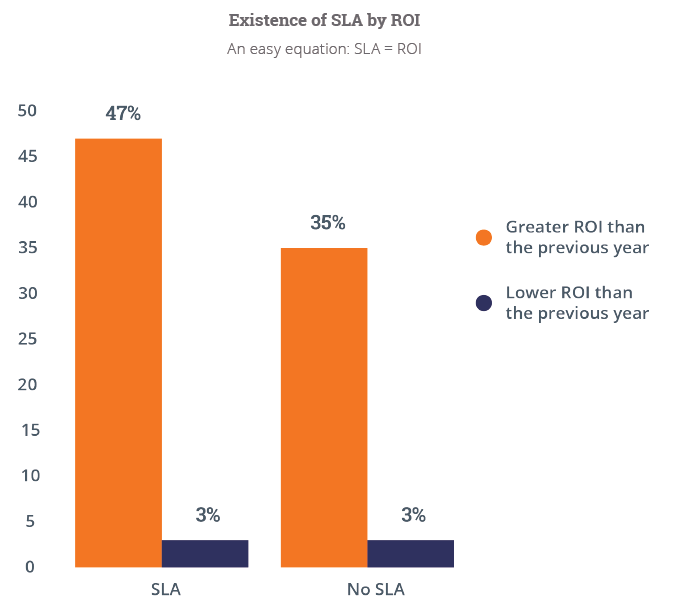 Key takeaway: If you haven't got an SLA in place with your sales team, start the process today (you'll all benefit in the long run)
Companies with SLAs receive more budget to work with
Yes that's right, creating an SLA is a great way to show senior management that both marketing and sales are serious about working together to generate more value for the business. In HubSpot's survey, companies that had an SLA in place were able to secure more budget (and do more great smarketing!).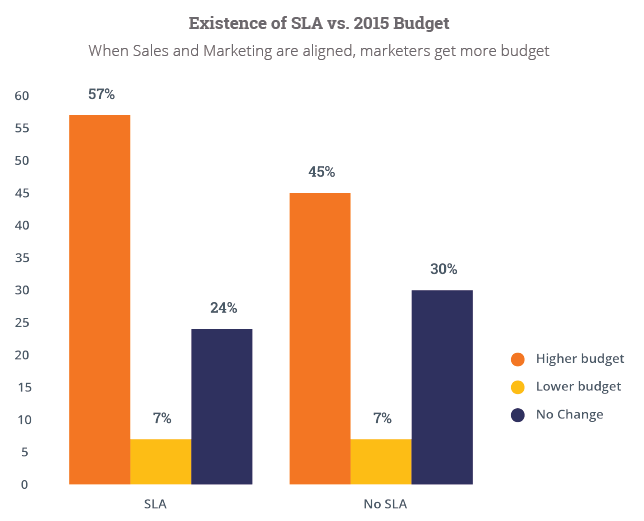 Key takeaway: An SLA between marketing and sales can enable you to request more budget (and produce even more great results)
How you can get marketing and sales to work more closely
Ok, so getting your sales and marketing team to work together is important, but many people are already well aware of this. A bigger challenge is how to achieve this! Well, the report throws some interesting data into the mix and touches upon something that we're seeing more and more of when we're out discussing the future of marketing with clients and prospects - integrated software solutions that can connect sales and marketing are a great way to close the loop between the teams and enhance the effectiveness of the overall sales pipeline.
For example, as you'll see if you download the full report, those that use marketing automation software were better at tracking and showing ROI. But if we look at this from a combined sales and marketing viewpoint, the story gets even more interesting. When marketing and sales are encouraged to discuss the tools they need to be successful, they select integrated systems that are better designed to move prospects along the buying process in a streamlined and connected way. To this end, marketers who were involved with life science sales enablement software selection were 13% more likely to see a positive ROI.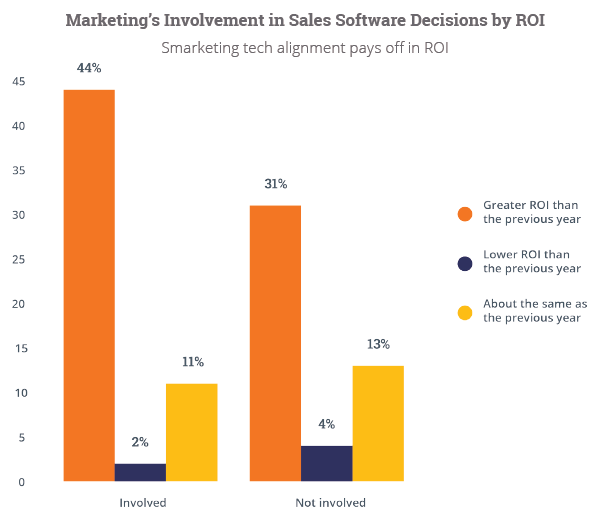 This should not be surprising. The customer purchase process has changed a huge amount since the rise of the internet, with most people 60-70% through the buying process before they ever talk to a sales person. It's therefore more imperative than ever that the marketing team passes on what they have learned during this process to the sales team, so that sales is in the best possible position to close deals (and can focus their time on the most well-qualified leads). Software solutions that track your customers all the way through the marketing and sales process are a sure-fire way to improve customer experience, drive sales and create brand advocates.
Key takeaway: Software can connect your sales and marketing teams to ensure a seamless (and enjoyable) experience for your prospects and customers
Get the full report
We've only scratched the surface of what you can learn in the new report. The full document includes over 70 pages of marketing and sales data, collected from people just like you who are facing similar challenges and opportunities. To arm yourself with this data and use it to sharpen your marketing plan for 2016, download the report today:
Ready to go Inbound?
Are you already intrigued at the value you could add by bringing inbound into your marketing mix? Then contact us today for a free, no-obligation consultation to explore what inbound can do for your business: