I heard a great story in a recent podcast. The captain of a plane switches on the loudspeaker to address the passengers: "There's good news and bad news," he says. "The bad news is that all the instruments have failed and I don't know where we are, where we're going or even which direction we are heading in. The good news is, we're making great time!"
If you sometimes feel like your marketing and sales processes are a bit like this, then you're not alone. You know that the best way to reach your goals is to take the time to develop a roadmap to help you get there. But then the day-to-day of the office gets in the way – there's content to create, meetings to attend, shows to plan for, the list is endless. However, without a strong plan in place, all the hustle and bustle you're putting in today could be in vain.
Creating a strategic marketing plan doesn't need to be as arduous, lengthy or difficult as you may think. To help, we've broken it down into a 7 stage process you can follow.


Stage 1: Gather customer insight and develop your proposition
If you want to stand out in the marketplace and leverage your unique value, then you must clearly understand and define what makes you special and why your customers might want to buy from you. To do that, you must collect data – from your customers, your team, market reports and even your competitors, usually via interviews, surveys or web research. If you only have time to do one of these, talk to your customers first – you'll be surprised as to what you can learn when you speak directly to the people that are buying from you!


Stage 2: Analyse the data
Once you have collected all the data, you need to review it so you can develop your value proposition. You can use this to create a message and story about your offering that clearly communicates why a customer should buy from you (and why you are the best solution to meet their challenges and help them reach their goals). The quality of the data you collected during stage 1 will be a key factor in helping you define a brand message that resonates with your prospects and that takes a position that you can own in the market.


Stage 3: Review your marketing and sales process
Now that you know who you are, what makes you special and what your customers are really looking for, you can start to build a plan to support your marketing and sales pipeline. Thus the next stage of building a marketing plan involves reviewing your sales process for gaps, and then building a tactical plan for overcoming them. Have people heard about your product, or do you need to raise awareness and create demand? Are you getting a steady flow of sales leads, but very few that actually convert into sales? By analysing your sales funnel in this way, you can set goals for making improvements.


Stage 4: Set SMART marketing goals
The next stage of creating a marketing plan requires you to translate the challenges identified in stage 3 into SMART goals you can measure. As Peter Drucker said, "What gets measured, gets managed". We prefer to set goals first, before thinking through our tactical plan, as it is easier to work back from your goals if you want to define specific tactics to help you achieve them. An example of a SMART goal might be to increase the number of visitors to your website by 20% by the end of the next quarter. To find out more about how and why you need to set SMART marketing goals, check out our blog on the subject.


Stage 5: Define your tactical plan
How will you reach your SMART goals? Answer: you'll build a tactical plan that will help you deliver against them. The precise blend of marketing and sales tactics you use will depend on the internal resource you have available, your marketing budget and any obvious opportunities present within the market. See the figure below for example tactics aligned against common marketing goals.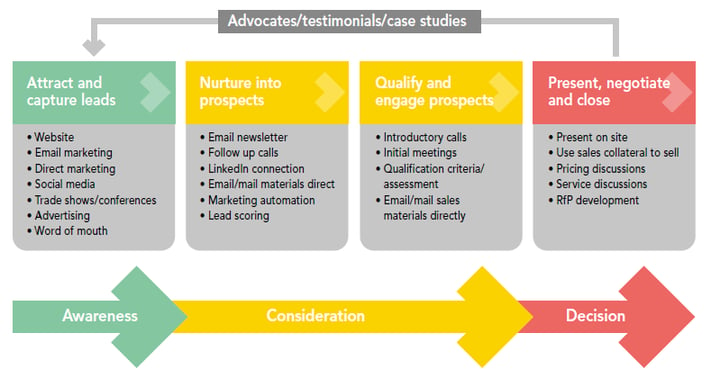 It's worth noting that marketing and sales has been going through a revolution, with the buying process of customers changing in response to the freedom of information provided by the internet. For example, your sales team does not own the relationship with the customer like they used to, and they are no longer the gatekeepers of all the information (the internet has seen to that and levelled the playing field). Instead, the customer is usually at least as well informed as your sales team, requiring a different approach to attract leads and close sales. We recommend using a content marketing approach to attract leads and nurture them through your sales process. This methodology has many names, but we refer to it as Inbound Marketing (find out more about our integrated Inbound Marketing method here).


Stage 6: Decide on marketing metrics to track your performance
Now that you have defined your proposition, identified gaps in your sales process, set yourself SMART goals and created a tactical plan to deliver against them, you'll need to define the metrics that you'll track in order to measure your performance and optimise your programme. The exact metrics you use will depend on the tactics you implement, but common key performance indicators (KPIs) include website visits, lead to opportunity ratio and opportunity to close ratio. A number of software tools now exist to make this easier, faster and more cost-effective than ever before. You'll find details on the best tools to use in our new eBook.


Stage 7: Executing your plan
Congratulations! You've created a solid marketing plan based on data (rather than guesswork) that specifically focuses on improving areas of your marketing and sales process. This gives you the best chance of success. But remember – your plan is not a static entity. Keep a close eye on how you're doing and adjust as required to try and improve performance against your metrics and goals.
What next? Download our free eBook!
Based on this 7 stage process, we've created a 25-page eBook that goes through each stage in more detail. Inside you'll find the info you'll need to build a bulletproof marketing plan. Download it today: