Problem-solving is at the heart of many scientific disciplines, so it's hardly surprising that scientists question new information. When it comes to their buying behaviours, the same thinking applies—scientific researchers tend to analyse their options and base their purchase decisions on data, as well as peer recommendations. To engage with these audiences, marketers need to align with their research-driven nature.
Inbound marketing uses relevant and valuable content in a structured way to naturally attract prospects to your website. Through provision of this high-quality content, you can increase website visitors, generate more leads and increase your revenue in the life sciences sector. We showcase how effective Aptuit, a contract research organisation (CRO), found this approach.
Download our eBook to learn more about inbound marketing, and why it's ideally suited to a life science audience.
Scientists look online for solutions to their research questions
Examining the credibility of evidence is a critical aspect of the scientific method. Researchers also use this approach when it comes to their own challenges and—just like the rest of us—they devote plenty of time searching online for solutions. Indeed, a study found they spend about 15 hours online every week accessing content related to their research challenges and 3-4 hours of this time is spent looking for information on products and services.
As well as general web searches, scientists also take advantage of other forms of digital media. In fact, the majority of researchers use trade publications and over a third use webinars to find product and service information. As you might expect, social media channels like Twitter, LinkedIn and Facebook also play their roles, with approximately half of life scientists following other researchers on social media (Bioinformatics report, 2017). This all-important peer-to-peer validation significantly increases the likelihood of online content being read, compared with a vendor-prompted distribution.
We can clearly see that scientists voraciously consume and share the content that enables them to answer product and service questions. Therefore, to attract prospects to your website, it's vital that you can provide data-savvy scientists with the information they need, and in the formats that they like to engage with.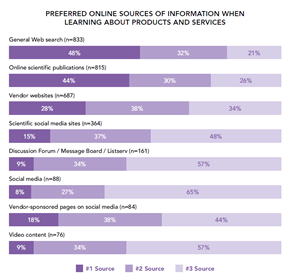 Source: Bioinformatics report 2016
Inbound strategies are perfect for life science marketing
Industry data suggests that tried and tested traditional tactics don't work well with scientists these days: cold email campaigns struggle to achieve open rates of 20% and in the healthcare sector B2B email click-through rates are often lower than 3%. As a result, many life science companies have shifted their marketing approach from outbound to inbound strategies, where instead of chasing down their prospects to promote their business directly, they're drawing their prospects in with engaging content.
By attracting prospects with the valuable and educational content that they're searching for, you'll engage with them on their own terms, and in turn, they will see you as an expert in your field. Drawing prospects to your website in this way also helps you to earn their trust, which is important for when they start to compare products and services, and eventually make purchase decisions. Lastly, in providing great content and customer service, your loyal customers will be more likely to recommend you to their colleagues, validating your products and services, and maintaining your reputation as an expert in the field.
In a nutshell, tailored inbound marketing approaches can increase your web visitors, generate leads, nurture prospects into loyal customers and ultimately increase revenue in your life science business. What's more, it's proven to produce remarkable results, as we show in the case study below. Read on to find out how changing to a life science inbound marketing strategy increased Aptuit's web traffic, generated new leads and enhanced new sales revenue – and how this approach could help your business too.
Case Study: Inbound life science marketing delivered outstanding results for Aptuit
An inbound approach can bring significant benefits to your business within a relatively short timeframe. In 2016, Aptuit joined forces with BioStrata as the company sought to increase awareness of its contract research services, generate more high-quality leads and ultimately, close more customers.
Having had limited success with traditional outbound marketing campaigns and activities, including print advertising, trade show attendance, cold email blasts and sales brochures, Aptuit recognised that a different approach was needed. Alongside BioStrata, Aptuit's marketing team worked on an inbound campaign aiming to increase awareness of Aptuit's offering, generate more leads and drive growth.
After just six months, Aptuit's tailored inbound campaign delivered outstanding results. As well as building awareness of Aptuit's services and positioning their experts as thought leaders in the field, the campaign increased website visits by 1600% and generated 750% more new leads in just six months. These new leads delivered over $3 million in sales revenue, achieving an ROI of over $50 for every $1 invested in the campaign.

Is it time to reconsider your life science marketing strategy?
Traditional outbound tactics are making way for inbound approaches with outstanding results. This shift to a customer-centric approach is perfectly suited to the life science sector as it appeals to research-driven scientists who crave balanced data to guide their choices. A change in Aptuit's marketing approach increased their engagement and revenue—what could inbound marketing do for you? Find out more by downloading our eBook.